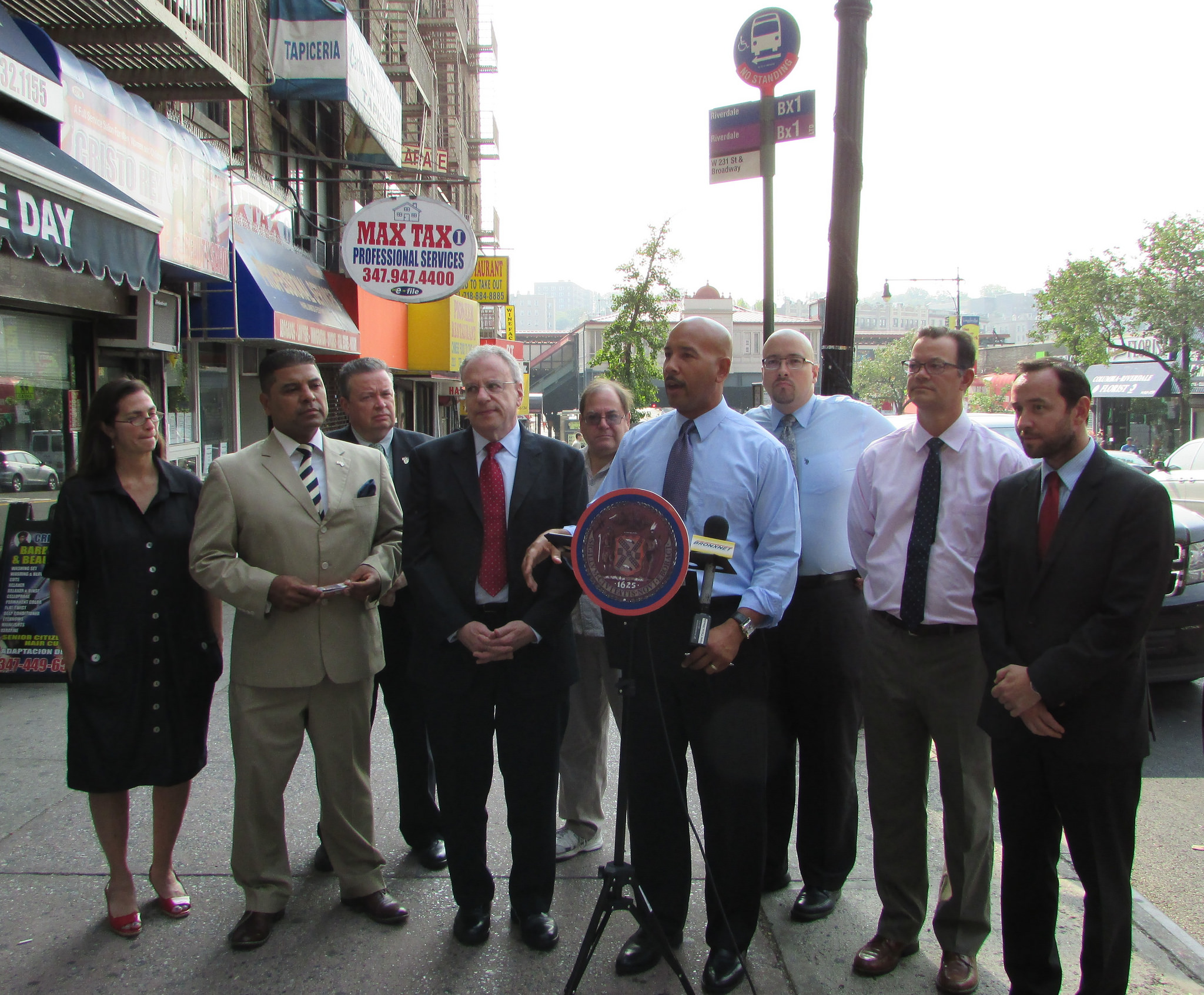 Today, Bronx Borough President Ruben Diaz Jr., Council Member Andrew Cohen, Assembly Member Jeffrey Dinowitz, Bronx Community Board #8 and the Bronx Overall Economic Development Corporation issued a joint report examining the Kingsbridge/Broadway retail corridor, running along Broadway between West 230th Street and West 238th Street, including connecting side streets, in the northwest Bronx.
This well-known commercial corridor has seen two new retail shopping centers open at each end in recent months, and is slated for more retail, commercial and residential development in the near future. Given this activity, this group sought to identify issues affecting the corridor and put forth recommendations, which they believe will help maintain the area's status as a vibrant, active and relevant shopping corridor for both local residents and those beyond.
Those recommendations include a renewed focus on graffiti removal, standardized street furniture and sanitation receptacles, increased lighting and the creation of new parks and public interaction spaces, among others.
The complete report on the Kingsbridge/Broadway business district can be read at http://on.nyc.gov/1fRNJcA.
"With two major new developments opening along Broadway in recent months, this shopping corridor is seeing increased traffic from not just Bronx shoppers, but travelers from northern Manhattan and Westchester, as well," said Bronx Borough President Ruben Diaz Jr. "Our recommendations will go a long way towards keeping Kingsbridge an attractive place to visit, shop and eat for local residents, while also ensuring that potential customers from all over the region will feel welcome here, shop in our local stores, and become repeat customers."
"I am very excited to see that the Kingsbridge shopping corridor has had an increase in traffic since the grand opening of two major developments along Broadway. The report my colleagues and I have constructed reflects our dedication to ensuring that the Kingsbridge business district continues to be a destination for not only local shoppers, but for our neighbors outside the northwest Bronx as well.  These recommendations, particularly, removing graffiti, removing old parking meters to repurpose the space for bike racks and sidewalk repair throughout the corridor, will keep the Kingsbridge corridor thriving and maintain the community's status as an active and vibrant neighborhood ," said Council Member Andrew Cohen.
"Having lived in the Northwest Bronx for most of my life, I have seen the Broadway corridor during some of its best and its worst times. It is exciting to see the amazing renaissance that has taken place along Broadway in recent years. New developments, including the construction of two new shopping malls, bring a new vitality to this corridor. There is so much more potential for growth along Broadway, but it must be done in a smart and coordinated fashion. While I have no doubt that Broadway's rebirth and revitalization will continue, we need to do everything we can to make common-sense improvements along the corridor. This includes better lighting, more seating areas, pedestrian- and bike-friendly pathways, improved parking, graffiti removal and better sanitation. I am confident that all of us working as a team will have a tremendously positive impact on Broadway," said Assembly Member Jeffrey Dinowitz.
"The opening of the two new shopping centers along Broadway continues to attract new businesses and customers from around the City. Common sense measures such as better lighting and the removal of non-functional parking meters will greatly enhance the experience of residents and visitors and will go hand in hand with the revitalization process that this area is currently undergoing," said State Senator Gustavo Rivera. "These recommendations will go a long way in strengthening the development of the Northwest Bronx."
"Retail in Kingsbridge is thriving. I applaud my colleagues, Community Board #8 and the Bronx Overall Economic Development Corporation for outlining a vision to maintain this vital shopping corridor that's seen two new major retail developments blossom. I'm also proud to partner with the BOEDC on the Bronx Revolving Loan Fund which allows businesses, big and small, to borrow up to $50,000 to make capital improvements to their ventures. This is a great way, especially for mom and pop shops looking to revitalize their stores, to get a loan and take part in this Kingsbridge Renaissance," said State Senator Jeff Klein.
"Kingsbridge is one of the most significant shopping districts in The Bronx, and this report puts forward several common sense improvements that can make this area more attractive to shoppers. I look forward to working with my fellow board members, elected officials and businesses together to make this shopping district an even better place to visit, and to take advantage of the new traffic this neighborhood will see as a result of these two new shopping centers," said Dan Padernacht, Chairman, Community Board #8.
"The Kingsbridge shopping corridor has turned into an exciting retail mecca for the area's residents as well as The Bronx in general.  We now have stores and restaurants that are new to the borough.  Because the corridor connects Riverdale and Northern Manhattan, there is still untapped potential to expand current businesses as well as attract new ones.  Enhancing the corridor will attract new and exciting businesses as well as encourage existing ones to continue to invest in their storefronts which encourage more economic development for all," said Marlene Cintron, President of the Bronx Overall Economic Development Corporation.
"All of the elected officials in the Kingsbridge/Broadway market understand the importance of job creation in their efforts to advance economic prosperity for the community and advanced planning for the future will maintain the Broadway corridor as an economic hub for years to come by attracting new businesses and new development," said Joseph Farkas, President of Metropolitan Realty Associates and the developer of the Riverdale Crossing shopping center.
"You don't have to go to Brooklyn or Manhattan to have a good time listening to great live music, it's happening right now in Kingsbridge." said Keith McDermott, co-founder of the Bronx Backyard monthly music series at Mr. McGoo's Pub. "We've had success bringing artists and fans to Kingsbridge for shows, but we can do better. Parking is difficult, biking down Broadway is terrible and the MTA and DOT should work with Bronx artists so people traveling here know this is a place that appreciates creativity."
Borough President Diaz added that his office will issue similar reports on other Bronx business districts in the future, in partnership with elected officials and community organizations.