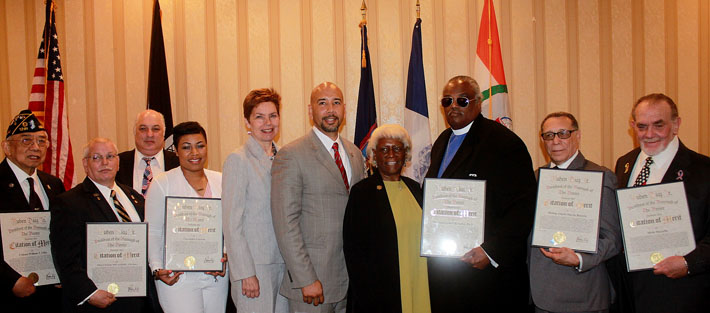 On Monday, May 11, Bronx Borough President Ruben Diaz Jr. and his Bronx Veterans Advisory Council hosted the Bronx Veterans Appreciation Day Breakfast. Over 300 vets from all service areas came together to honor each other, especially those who are no longer with us.
Pictured are: Colonel William Chin, Allen Hansen, Joe Mondello, Cassandra Carrero, Commissioner Loree Sutton, Borough President Diaz, Deputy Greene, Rev. Robert B. Farley, Ph.D., Bishop Angelo Rosario and Silvio Mazzella.
The event is part of Bronx Week 2015, the borough's annual celebration of everything that makes The Bronx a great place to live, work and raise a family. More information on Bronx Week can be found at www.ilovethebronx.com.