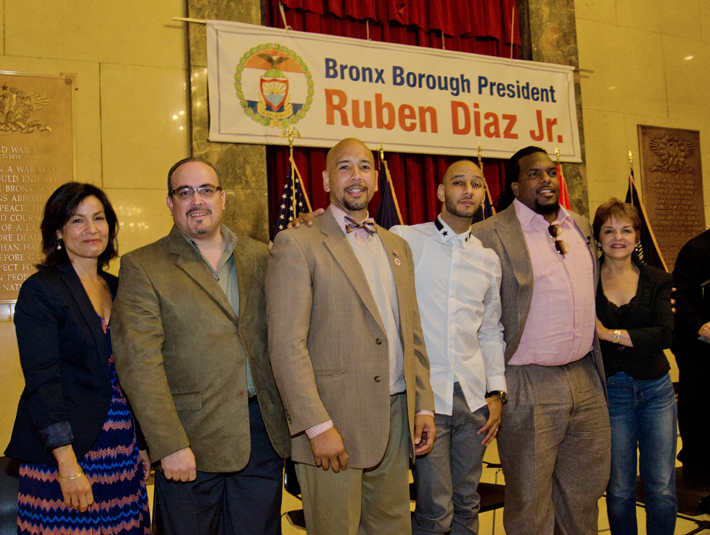 On Sunday, May 18th, Bronx Borough President Ruben Diaz Jr. celebrated the grand finale of Bronx Week 2014 with the annual induction ceremony and Bronx Week Parade.
During the 43rd annual Bronx Week Parade, hundreds of students from Bronx schools and youth organizations marched down Mosholu Parkway with the five new members of the Bronx Walk of Fame—Grammy-award winning hip-hop producer Swizz Beatz, actor and star of Showtime's "Dexter" David Zayas, film and TV star Rachel Ticotin, New York Jets offensive lineman William M. Colon III and Tony-award winner Priscilla Lopez— who also paraded along Mosholu Parkway after the unveiling of the signs during the induction ceremony that carry their names on the Grand Concourse.
"Bronx Week 2014 was a huge success and I am pleaseed by how residents and visitors took the time to celebrate the beauty, culture, talent and development of our neighborhoods. I am honored to once again be part of this very special annual tradition, and can't wait to see what's in store for next year," said Bronx Borough President Ruben Diaz Jr.
After the parade, residents enjoyed the Bronx Week Food, Art & Music Festival, which featured popular restaurants, arts & crafts, games and activities for kids. The Bronx Health Pavilion also offered free health screenings and information on services, health insurance; and the stage offered live music all-day, with special performances by legendary hip-hop artist Rakim, salsero Tony Vega and R&B singer Elle Varner.
Prior to the induction ceremony, Borough President Diaz hosted a volunteer breakfast and recognition ceremony for dozens of Bronx volunteers from the American Red Cross.
"The volunteer spirit is alive and well in The Bronx, and Bronx Week is a great time to celebrate the hard work and dedication of these individuals, who contribute so much to our borough through their work with the American Red Cross," said Bronx Borough President Ruben Diaz Jr.
"Dedicated, compassionate volunteers are at the heart of the Red Cross mission. I am so proud of our volunteers for this honor. The Red Cross is committed to providing humanitarian relief following disasters large and small. Last year, we helped more than 3,000 Bronx residents following local emergencies in the borough. This emergency assistance came in the form of food, shelter and emotional/health support," said Josh Lockwood, CEO, American Red Cross Greater NY Region.
"As a life-long Bronx resident and a long-time Red Cross volunteer, I am so touched to see my Red Cross family honored in this way. Volunteering for the Red Cross is a way for us to provide real help to our neighbors at their most desperate time. Thank you to Ruben Diaz Jr. for recognizing the work of the Red Cross in our community," said Arturo Guzman, a Bronx resident and volunteer with American Red Cross Greater NY Region.