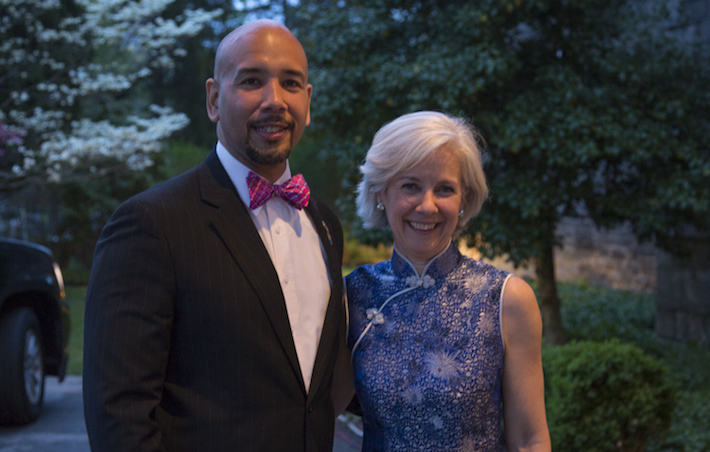 Over 360 Guests Celebrated at May 10th Event in Centennial Style
The Moonlight Ball, Bartow-Pell Conservancy's signature centennial held on May 10th was an evening to remember. Co-chairs Cynthia Brown, Ann Auwarter, and Lynn Byrne created an event that was a success by all measures. Held on the grounds of the Bartow-Pell Mansion Museum in a tent fabulously decorated by Lynn Byrne and Jennifer Mehditash, the rain held off long enough for guests to enjoy mansion's beautiful newly restored Delano & Aldrich formal sunken garden. Guests enjoyed cocktails and hors d'oeuvres followed by a three-course dinner, catered by Scarborough Fair, and dancing to the jazz-age sounds of Michael Arenella and his Dreamland Orchestra.
Stuart P. and Sue K. Feld of Hirschl & Adler Galleries, honorary co-chairs, and honorees Bronx Borough President Ruben Diaz Jr. and Frank Sanchis, a leader in historic preservation and currently Director of U.S. Programs at the World Monument Fund, drew a sold-out crowd for the evening. The spirited live auction, which featured one-of-a-kind trips and experiences was organized by Ann Auwarter and led by auctioneer George McNeely, Vice President for Strategic & International Affairs at the World Monuments Fund and formerly of Christie's.
Borough President Díaz was honored in special recognition of the 100th anniversary of Bronx County, as well as his accomplishments as Borough President. Other local politicians in attendance at the event included New York State Assemblyman Michael Benedetto, New York State Assemblywoman Amy Paulin, who presented a citation, Westchester County Legislator Jim Maisano, and Pelham Mayor Tim Cassidy.
Funds raised at the Moonlight Ball will be used to install a new decorative floor covering in the entrance hall and support ongoing operations at Bartow-Pell Mansion Museum.