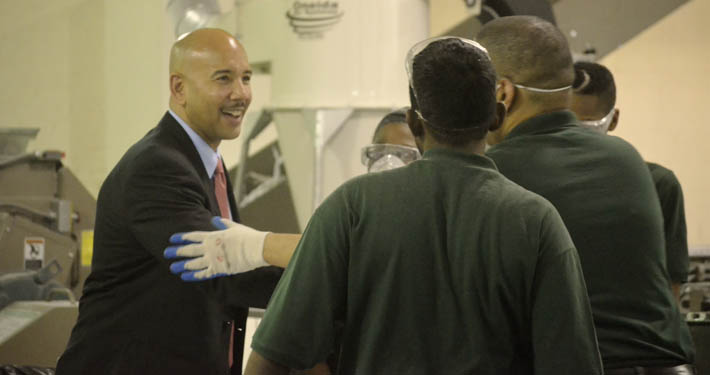 Bronx Borough President Ruben Diaz Jr. visited a secure document destruction facility in the South Bronx that focuses on hiring Bronx community members with disabilities. SHREDability, a service provided through AHRC New York City, employs 18 individuals with intellectual and developmental disabilities with 17 of them living and working in the Bronx. Bronx Borough President Diaz believes in the program wholeheartedly.
"This is an amazing business model, I always tell people 'think different,' 'think the Bronx.' So when you get SHREDability, the work that they've been doing here, the service that they provide, hiring [Bronx residents], making sure that they are doing that on an equal scale so that those who have certain disabilities also get job opportunities, this is exactly what we are trying to promote."
Steve Towler, an Assistant Executive Director at AHRC New York City, was thrilled to welcome the Borough President, and believes "…that this site visit will bring more attention to our program to allow us to expand our placement of disabled individuals [at SHREDability]."
The workers at SHREDability were very proud to welcome their Borough President and happy for the opportunity to discuss the work they do at SHREDability with their important guest.