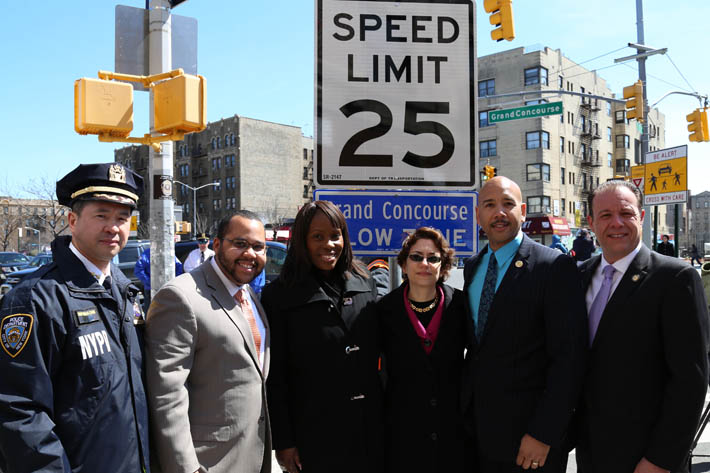 The Grand Concourse will be the second of 25 planned arterial slow zones, joining Atlantic Avenue; traffic signals to be retimed for 25 m.p.h. along the 5.2 mile corridor that has seen 12 fatalities between 2008 and 2012
The program expansion builds on the Vision Zero outreach process, where speeding on major streets has been identified by New Yorkers as a serious safety issue
New York City Department of Transportation (DOT) Commissioner Polly Trottenberg, NYPD Chief of Transportation Thomas Chan, Bronx Borough President Ruben Diaz Jr., Assembly Members Victor Pichardo and Mark Gjonaj and Council Members Vanessa Gibson and Ydanis Rodriguez announced today that the Grand Concourse in the Bronx will be the second in a series of 25 Arterial Slow Zones to be installed on major streets across the city, following last week's program introduction on Atlantic Avenue. Beginning in April, traffic signals will be synchronized to reduce dangerous speeding along the 5.2 mile corridor from E. 140th Street to Mosholu Parkways that has seen 12 fatalities, including seven pedestrians, between 2008 and 2012.
Through a combination of improved signal timing to discourage speeding, distinctive signage and increased enforcement by the NYPD, the announcement continues the expansion of the arterial slow zone program, and other efforts by DOT and its partners to prevent traffic fatalities and improve safety on New York City streets. The Commissioner was also joined at the announcement by the Bronx Museum, Transportation Alternatives, and Youth Ministries for Peace & Justice.
"I'm pleased to announce that the next stop for the Arterial Slow Zone program will be the Grand Concourse, where long crosswalks and high speeds have been a fact of life for too many residents in the Bronx," said DOT Commissioner Trottenberg. "We're bringing innovative safety changes like these to the Concourse, to Atlantic Avenue and other major streets to deter dangerous speeding and deadly crashes, as we work to make these arterials and every New York City street safer for all New Yorkers."
"Vision Zero is a commitment made for safer streets and roadways by our Mayor Bill de Blasio.  The epidemic of traffic fatalities and injuries are unacceptable," said NYPD Chief of Transportation Thomas Chan.  "Our city agencies are working hard to achieve these ends.  Speeding motorists must slow down, drivers must yield to pedestrians who have the right of way.  Pedestrians must use caution and don't assume that drives always see you."
The Arterial Slow Zone program – one of 63 proposals included in the Vision Zero report released in February – will lower posted speed limits from 30 to 25 m.p.h. on streets that have seen some of highest numbers of fatalities and serious injuries. Citywide, arterials make up only 15 percent of total mileage but have accounted for some 60 percent of pedestrian fatalities.
"A safer Bronx is a better Bronx. This slow zone along the Grand Concourse will undoubtedly save lives, and we are grateful as a borough to Commissioner Trottenberg and the de Blasio administration for bringing the principles of 'Vision Zero' to one of our most trafficked thoroughfares," said Bronx Borough President Ruben Diaz Jr.
"Grand Concourse is a major street that runs through residential areas, creating pedestrian and vehicular safety concerns. Creating a slow zone on this street and other streets like it will allow New Yorkers to continue using these crucial roads as main arteries of transportation while making conditions safer for pedestrians, bicyclists and drivers alike," said City Council Speaker Melissa Mark-Viverito. "I thank the Mayor, the Department of Transportation and my Council colleagues for their work in the Bronx and in all 5 boroughs to make our city's streets safer for all New Yorkers."
"To protect our residents, we must take the necessary measures to calm traffic on city streets," said NYC Council Transportation Committee Chair Ydanis Rodriguez. "This is why I am glad to see DOT Commissioner Trottenberg and NYPD Chief Chan taking action here in the Bronx. The Grand Concourse is so heavily trafficked it has become prohibitive for kids and seniors to cross, yet as it is such a central street, it is almost imperative that they do. This is why lowering speeds and increasing traffic enforcement will lead to a Grand Concourse that all can use without fear of danger."
"Too many New Yorkers needlessly lose their lives every year because of traffic accidents that can be prevented," said State Senator Gustavo Rivera. "I am very grateful that our City is implementing the Vision Zero plan along the Grand Concourse – and throughout the city – to reduce the number of traffic related fatalities in our neighborhoods and communities."
"Mayor de Blasio's Vision Zero program is a comprehensive approach to creating safer streets for all New Yorkers. With the launch of Arterial Slow Zones across 25 major corridors, our city is taking an important step towards reducing traffic speeds across our city. I thank Mayor de Blasio, Commissioner Trottenberg and the Department of Transportation for making traffic safety a top priority and for bringing this program to the Grand Concourse – a stretch of our borough that will benefit enormously from slower speeds and enhanced traffic enforcement," said State Senator Jeff Klein.
"Today marks an important milestone for pedestrian safety in the Bronx.  The Grand Concourse – where I live in the South Bronx – is a beautiful and historic thoroughfare, but has sections along its route that are quite dangerous for pedestrians. The implementation of the Vision Zero initiative on the Grand Concourse between East 140th Street and the Mosholu Parkway is a great step in improving public safety. I applaud Mayor de Blasio and DOT Commissioner Polly Trottenberg for bringing this vision of safety to the borough," said State Senator José M. Serrano.
"The timely execution of the Vision Zero action plan is an effective way to address the public's concern about street safety while raising awareness among motorists and preventing senseless fatalities in the future," said Council Member Fernando Cabrera.
"I am excited to be working with the Mayor and DOT to bring Vision Zero to the Grand Concourse.  I believe the Arterial Slow Zone as part of the Vision Zero initiative will result in fewer accidents, slower speeds and safer streets for both motorists and pedestrians and I look forward to seeing its implementation," said City Council Member Andrew Cohen.
"The Grand Concourse is a historic thoroughfare that links the Bronx to culture, baseball and some of the finest sites in New York City," said Paul Steely White, executive director of Transportation Alternatives. "Up until now speeding and reckless traffic, not the experience of those who live, work and visit here, have been the defining characteristics of this majestic street, so today we are pleased to join Mayor de Blasio, DOT Commissioner Trottenberg and Police Chief Chan in announcing the new 25 mph speed limit on this storied boulevard."
"The Bronx Museum of the Arts supports the slow zone initiative as part of the Vision Zero efforts by the DOT," said Executive Director Holly Block.  "The Museum is a cultural destination located on the Grand Concourse at 165th Street that provides arts and cultural programing and supports initiatives that benefit our neighbors' well-being. The Museum is an active partner for the safety of our Bronx communities and strongly believes in policies that will make our main boulevard the safest place for pedestrians and cyclists."
On these arterials, DOT will make comprehensive improvements to signal timing along the corridor, maintaining crucial vehicular capacity and providing more efficient, predictable traffic flows along these heavily used corridors. The locations will also benefit from increased enforcement by the NYPD, as well as temporary speed boards the DOT will place in key locations. The program will feature comprehensive signal timing enhancements paired with distinctive blue-and-white speed limit signage with the name of the corridor, complementing the agency's existing Neighborhood Slow Zone program as well as the administration's efforts to reduce the citywide speed limit in partnership with the state legislature.
The introduction of Arterial Slow Zones comes as the extensive public outreach program for Vision Zero continues. At each of the well-attended town hall meetings to date, speeding along these corridors has been named a serious safety issue by New Yorkers across the boroughs, and this program is designed to address some of these concerns. Building on these community-driven efforts, the agency is also looking to gain additional input at nine upcoming Vision Zero public workshops to be held across the city. All New Yorkers are invited to provide insight on conditions in neighborhoods and to aide in the prioritization of street safety initiatives, as DOT and the NYPD work to develop comprehensive pedestrian safety plans for each borough.
For more information on Arterial Slow Zones and all Vision Zero efforts, please visit www.nyc.gov/dot and www.nyc.gov/visionzero.