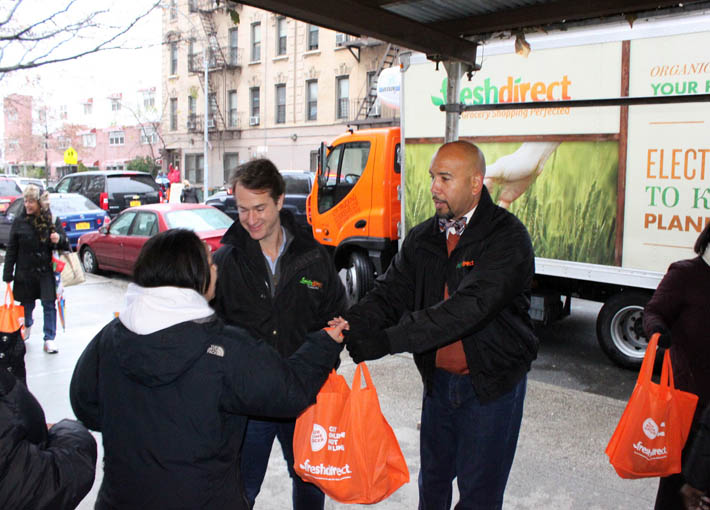 Online Grocer Will Distribute Free Turkeys In NYC And Philly For Thanksgiving
NEW YORK – FreshDirect is donating a total of 2,000 turkeys this week to various groups throughout New York City and Philadelphia in anticipation of the Thanksgiving holiday.
The schools and charitable organizations receiving the turkeys are the Brooklyn Anti-Violence Coalition, Urban Upbound, Project HOME, the Lantern Organization, and Public School 209 in the Bronx.  The offices of State Senator José Peralta, Bronx Borough President Ruben Diaz Jr., and Brooklyn Borough President Marty Markowitz will also help distribute donated turkeys.
"A warm, nutritious meal is the centerpiece of the Thanksgiving holiday," said FreshDirect CEO and co-founder Jason Ackerman.  "We're glad we can help families who need it the most share in this occasion."
Bronx Borough President Ruben Diaz Jr. said, "Thanksgiving is a time for families to come together and enjoy a warm, fresh meal. I commend FreshDirect for helping provide countless of families in need here in The Bronx and the entire City of New York with part of that meal. This act of kindness is a testament of FreshDirect's continued commitment in providing our residents with high quality foods in time for the holiday season as well as year round. I look forward to continue working with FreshDirect."
"This generous donation will help brighten the holidays for hundreds of families throughout my district," said State Senator Jose Peralta. "I applaud Fresh Direct for its commitment to our community, and look forward to working with them to provide a real Thanksgiving meal to those who might otherwise do without."
"Brooklyn gives thanks for the continued generosity of FreshDirect, whose donation of turkeys for families in need embodies the spirit of the holiday season," said Brooklyn Borough President Marty Markowitz. "As we 'gobble gobble' our Thanksgiving feasts and celebrate the joy of each other's company, we remember that too many amongst us are not as fortunate. Let us recommit to sharing our 'cornucopia' of blessings with our brothers and sisters across Kings County in the coming year."
Lwiza Castillo, a Case Manager at the Lantern Organization, said, "The ability to provide a good meal for your family is important every day of the year, but never more so than on Thanksgiving. I'm proud to be working with FreshDirect to help make such a meal a reality for so many in our community."
"It is my goal to make sure every one of my students has something healthy to eat this Thanksgiving," added P.S. 209 Principal Anne Keegan. "These donated turkeys will go a long way toward helping me achieve that goal."
Bishop Mitchell Taylor, Founder and CEO of Urban Upbound and the Pastor of the Center of Hope Int'l, a church which serves thousands of people per year at their food pantry, said, "The partnership we've shared with Fresh Direct over the years has been a catalyst of hope around the holidays for the hundreds of people that we serve in Public Housing neighborhoods in North Western Queens."
Reverend W. Taharka Robinson, founder of the Brooklyn Anti-Violence Coalition, said,
"During this holiday season, FreshDirect is stepping up to the plate and helping many families in the Bedstuy and Crown Heights communities. I thank FreshDirect for being a continued community partner and helping these families to have a good holiday meal."
FreshDirect is not limiting its contributions to New York City. The company will also make a donation to Philadelphia's Project HOME, an organization devoted to ending homelessness in the area, where it will distribute 100 turkeys.
"As an organization dedicated to alleviating poverty, Project HOME is proud to be working with FreshDirect and others to make sure everyone in our city is able to feed their families this Thanksgiving," said Jen McAleese of Project HOME
FreshDirect began distributing the turkeys on Friday, November 22 and will continue to do so through Wednesday, November 27th.