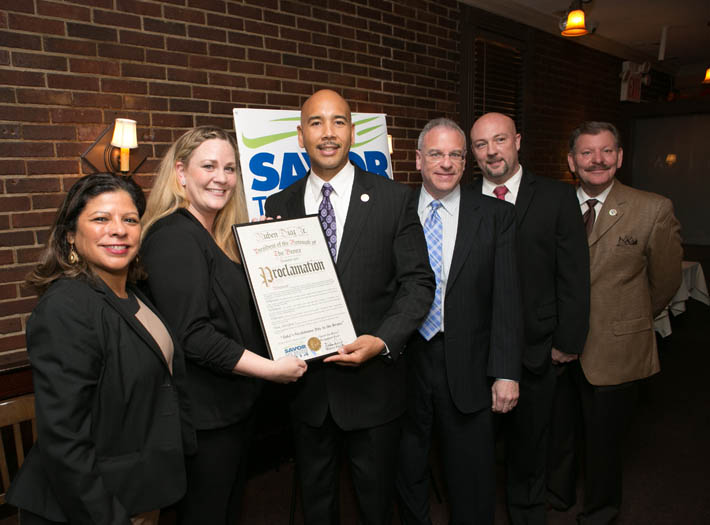 Bronx Borough President Ruben Diaz Jr., in conjunction with American Express, officially kicked off the 3rd Annual "Savor the Bronx" Restaurant Week today at Jake's Steakhouse in Riverdale.
"Savor the Bronx" Restaurant Week, produced by the Bronx Tourism Council and co-hosted by the Bronx Overall Economic Development Corporation (BOEDC), showcases the borough's best eateries by offering special values and discounts.
"Once again I would like to invite all New Yorkers and visitors with open arms to our beautiful Borough to 'Savor the Bronx.' During our official restaurant week I strongly encourage both visitors and residents alike to try a new restaurant or return to a favorite. I am sure Bronxites and visitors from across the region will enjoy from a wide selection of restaurants that are sure to leave their taste buds craving for more," said Bronx Borough President Ruben Diaz Jr.
"We are excited to share Bronx flavors with visitors, especially during 'Savor the Bronx' Restaurant Week. Tourists can enjoy great food at an affordable price in a friendly and welcoming environment," said Olga Luz Tirado, Executive Director of the Bronx Tourism Council.
This 12-day event, which runs from November 4th to November 15th, is the perfect opportunity to explore your taste buds and the Bronx.  From Italian cuisine in Little Italy to seafood on City Island and everywhere in between, "Savor the Bronx" offers everyone a chance to enjoy the diverse flavors our borough has to offer.
During the press conference, the internationally-renowned Jake's Steakhouse and the Bronx Brewery gave samples of what to expect at this year's Bronx restaurant week. Dozens of restaurants are participating in this year's "Savor the Bronx."
For more information, visit www.savorthebronx.com.