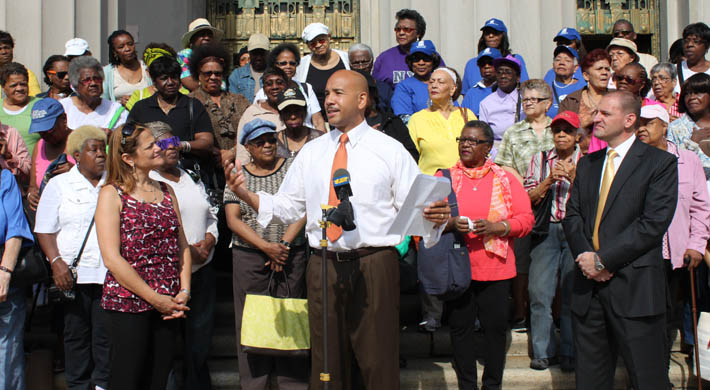 On Thursday, September 5, Bronx Borough President Ruben Diaz Jr., WellCare of New York and Bronx senior citizens kicked off Bronx Senior Month, celebrating the contributions of seniors from across the Bronx.
The itinerary of activities for senior citizens during the month of September will include a Grandparents Resource Fair and will finalize with an award ceremony honoring seniors who are making a difference in their community.
"Our senior citizens are the heart of our community and I am proud to partner with WellCare Health Plans, Inc. to honor them during the month of September.  Bronx Senior Month is a wonderful opportunity to provide entertainment to our seniors as well as information on their benefits and health needs. Here in the Bronx we have a rich history  thanks to our elders who continue to make invaluable contributions to our community.   Although September is especially dedicated to  our seniors we  should  always remember to help and support  them for a job well done throughout the year," said Bronx Borough President Ruben Diaz Jr.
Immediately after the press conference, seniors were treated to a free screening at the Concourse Plaza Theater  of "The Butler," a historical film starring Academy Award winning actor Forest Whitaker.
Bronx Senior Month Activities
September 19, 11:00 a.m. – 3:00 p.m.
Grandparents Resource Fair, light refreshments provided by Golden Crust
Sotomayor Community Center, 1000 Rosedale Ave, Bronx, N.Y.
September 26 9:00 a.m. – 12:00 p.m.
Awards Ceremony and continental Breakfast
WellCare Bronx Retail Sales Office, 1043 Southern Boulevard, Bronx, N.Y.