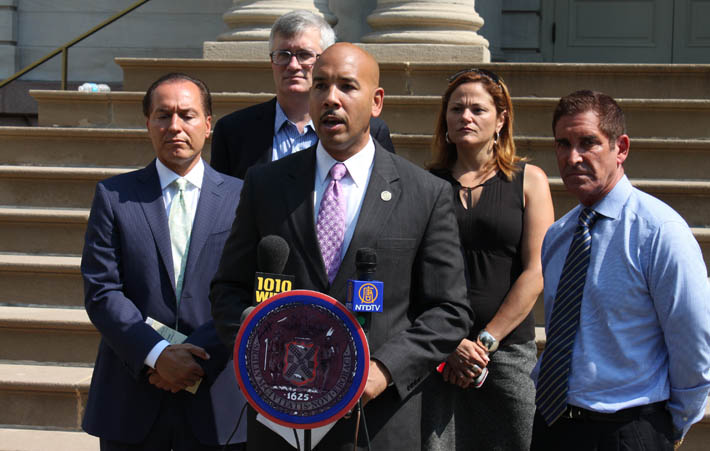 On August 21st, Council Member Peter F. Vallone Jr., Chair of the Public Safety Committee, and Bronx Borough President Ruben Diaz Jr. hosted a press conference announcing legislation – which will be introduced at the Stated Meeting on August 22nd – making the City's existing gun offender registry open to the public online and calling on the State to create a statewide registry.
Vallone and Diaz were joined at the press conference by Senate Co-Leader Jeff Klein, Assembly Member Carl Heastie, Assembly Member Brian Kavanagh and Council Member Melissa Mark-Viverito.
The city's gun offender registry – which was created in 2006 by Council Member Vallone and Mayor Michael Bloomberg as the first of its kind in the nation, subsequently copied in Baltimore, Chicago and Washington, DC and other locations – is currently only available to the NYPD. However, Vallone's bill would make the registry accessible to the public online, allowing residents to be aware of dangerous gun offenders in their communities.
Borough President Diaz proposed a statewide registry in his 2013 "State of the Borough" address, and this resolution represents the first step toward this goal.
In accordance with the registries, defendants convicted of certain gun crimes must register their addresses with the police, verify them in person every six months and promptly notify the police if they change addresses for four years after their release from prison. Some dangerous felons have gone back to prison for failing to comply with these guidelines, with 11 arrests in 2012 alone for not registering.
Statistics show that 30 percent of all shootings in New York City have been committed by a small group of offenders — mostly members of youth gangs – and the registries will keep their whereabouts known to both law enforcement and the public. Numerous studies have also shown that illegal gun possession has a very high risk of recidivism, and New York City statistics have indicated that those convicted of felony gun possession were more likely to be rearrested when compared to other felons. Forty-two percent of those re-arrests were likely to be on violent charges, compared to 25 percent for those not convicted of gun crimes, and gun offenders were also four times more likely to be arrested for homicide. As of December 2012, there were 595 eligible gun offenders in New York City, 302 of whom are currently back in jail.
"New York City's gun offender registry has kept the spotlight of the law on the most dangerous criminals among us – and it is time for the entire State to follow in our footsteps and utilize this effective crime-fighting tool which helped the NYPD and Commissioner Raymond Kelly make New York the safest big city in America. We cannot allow these violent offenders to slip through the cracks upon their release from prison, and these bills will keep residents and law enforcement officers across the state well aware of their locations," said Council Member Vallone.
"A safer New York State, and a safer nation, demands that we shine a light on those individuals who would commit gun crimes in our neighborhoods. An easily-accessible gun crime registry will serve as an excellent tool not only to keep neighborhoods informed about crime, but to serve as a deterrent from such acts," said Bronx Borough President Ruben Diaz Jr.
Senator Klein said: "When it comes to preventing gun violence, New Yorkers deserve to have every effective tool at their disposal. New York City's gun offender registry has helped make our city one of the safest in the nation. That's because it shines a spotlight on the types of criminals who too often use a gun to commit a crime. That's why I will continue to push–and introduce–legislation to expand the gun offender registry statewide. By providing law enforcement and everyday New Yorkers with more information about potential threats, we can and will prevent more gun crimes in communities across New York."
"We have to fight the scourge of gun violence in every possible way. Too many people have died as a result of guns, and some of these deaths may not have taken place but for our lax gun laws. This legislation will give us another tool to keep guns out of the hands of the wrong people. How many more dead children will it take before we finally take action?" stated Assemblyman Dinowitz.
"I applaud Bronx Borough President Ruben Diaz Jr.'s vision to make the New York City Gun Offender Registry public and to expand it to the whole state to further ensure that all New Yorkers can be safer. I am happy to stand with Councilman Vallone and State Senator Klein and as they push this legislation in the city and the state. This is a progressive, common sense plan that will help fight crime without violating civil liberties – something we can all rally around," said Council Member Mark-Viverito.