Borough President Diaz, U.S. Senator Gillibrand and Other Elected Officials Urge Congress to Restore Voting Rights Act This Year in Wake of Supreme Court Decision that Gutted Key Provision at the Very Heart of the Law
Borough President Diaz, U.S. Senator Gillibrand and Other Elected Officials Urge Congress to Restore Voting Rights Act This Year in Wake of Supreme Court Decision that Gutted Key Provision at the Very Heart of the Law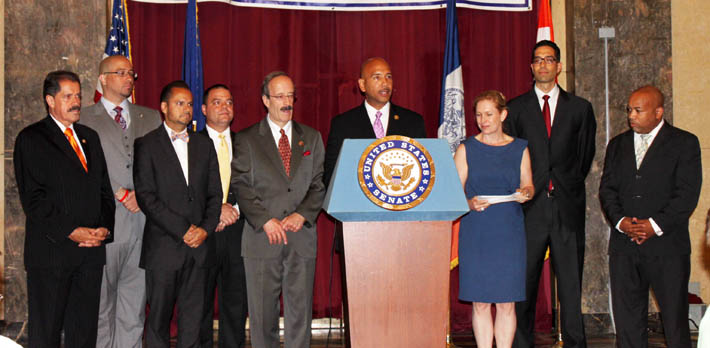 On Wednesday, August 7, Bronx Borough President Ruben Diaz Jr., U.S. Senator Kristen Gillibrand and other elected officials as well as the Puerto Rican Bar Association joined together to urge Congressional leaders of both chambers to pass a bipartisan legislative solution this year to restore the Voting Rights Act in advance of the upcoming 2014 midterm elections to protect voters from discrimination and ensure that all Americans have full and equal access to the ballot box.
This past June, the Supreme Court struck down Section 4 of the Voting Rights Act, a cornerstone provision that sets the preclearance formula used to determine which state and local jurisdictions must receive federal pre-approval before changing their voting laws. With the dismantling of the Section 4 formula, there is an increased likelihood of discrimination through redistricting, voting location changes, new voter ID laws, and reduced early voting periods in many areas of the country.
The court ruling removes major federal legal protections for New York City voters – since 1968 The Bronx had been covered jurisdictions under the Voting Rights Act.

851 Grand Concourse Ste. 301
Bronx, New York 10451
(718) 590-3500
Email Borough President Diaz var gaJsHost = (("https:" == document.location.protocol) ? "https://ssl." : "http://www.");document.write(unescape("%3Cscript src='" + gaJsHost + "google-analytics.com/ga.js' type='text/javascript'%3E%3C/script%3E"));try {var pageTracker = _gat._getTracker("UA-3288993-1");pageTracker._trackPageview();} catch(err) {}