Bronx Borough President Diaz Hosted the Borough's Annual Iftar Dinner in Honor of the Blessed Month of Ramadan
Bronx Borough President Diaz Hosted the Borough's Annual Iftar
Dinner in Honor of the Blessed Month of Ramadan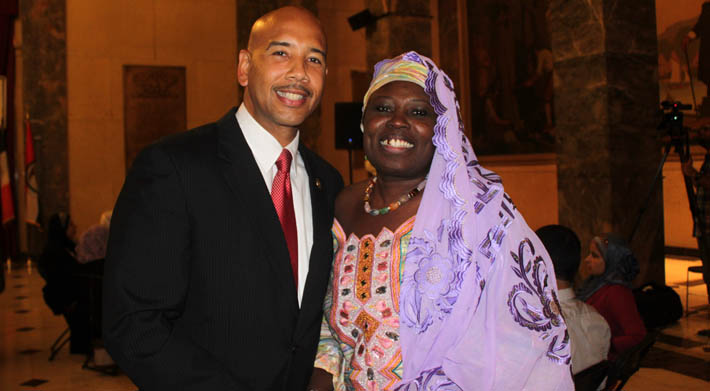 On Thursday, July 25, Bronx Borough President Ruben Diaz Jr., joined by hundreds of residents and community leaders, celebrated the borough's annual Iftar dinner in honor of the blessed month of Ramadan.
During the event, Borough President Diaz recognized the importance of the growing Muslim community in The Bronx. This year's honorees included, the Director of Islamic American University Hamud Al-Silwi Ph.D., Community Coordinator and Activist Ramatu Ahmed and Jack Doyle the Executive Director of New Settlement Apartments.
Ramadan is observed by more than one billion Muslims around the world. The end of the month of Ramadan is marked with the joyous festival of Eid al-Fitr, which means the "Festival of Breaking the Fast."
Pictured with the Borough President is honoree Ramatu Ahmed.

851 Grand Concourse Ste. 301
Bronx, New York 10451
(718) 590-3500
Email Borough President Diaz var gaJsHost = (("https:" == document.location.protocol) ? "https://ssl." : "http://www.");document.write(unescape("%3Cscript src='" + gaJsHost + "google-analytics.com/ga.js' type='text/javascript'%3E%3C/script%3E"));try {var pageTracker = _gat._getTracker("UA-3288993-1");pageTracker._trackPageview();} catch(err) {}