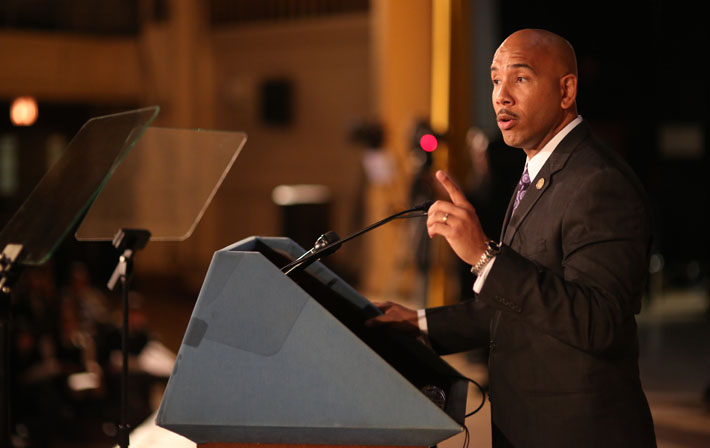 Borough President Diaz says the 'New Bronx' has taken tremendous steps towards a brighter future; outlines new initiatives on crime, development and education
Today, to a full crowd at the Monroe High School Campus auditorium in Soundview, Bronx Borough President Ruben Diaz Jr. delivered his fourth annual "State of the Borough" address.
During his speech, the Borough President highlighted his administration's accomplishments over the past year and throughout his first term, outlined his agenda in education, health and economic development and declared the "New Bronx" a borough of economic success and prosperity.
"The Bronx has come a long way in the last few decades. Crime is down, investment is high, our neighborhoods are cleaner and our economy is growing," said Borough President Diaz.  "The 'New Bronx' is a place where we have helped to create or retain thousands of new jobs, and will create thousands more."
Borough President Diaz also called for the creation of a new gun crime registry, with reporting requirement similar to those as sex offenders.
"The registry would be available online, and would require perpetrators of gun violence to keep updated records with the police regarding their living and employment arrangements. Law-abiding citizens ought to know who among us is responsible for gun violence, and this initiative will do just that," said Bronx Ruben Diaz Jr.
During his speech, Borough President Diaz emphasized that the Bronx saw almost $1.5 billion of new investment last year and has seen more than $4.5 billion since 2009. Together, new borough projects advanced by Borough President Diaz have created or retained more than 5,000 permanent jobs, in addition to thousands of construction jobs. A full report, outlining the development achievements of the Bronx during Borough President Diaz's first term so far, is attached to this release.
"We are growing by leaps and bounds. We are seeing significant progress in our efforts to make the Bronx an even greater place to live, work and raise a family," said Borough President Diaz.
In addition, Borough President Diaz said tourism remains a great way to help small businesses in the Bronx grow. He said this year the Bronx will see an expanded Salsafest!, an even bigger Bronx Week and noted that 2014 marks the 100th anniversary of Bronx County. In the coming weeks, Borough President Diaz will announce the formation of a commission that will help guide a year of events commemorating this milestone.
In his speech the Borough President also spoke about his commitment for a greener, healthier Bronx, specifically talking about his Solar Thermal Initiative, which kicked off this year to help residential buildings install Solar Thermal Hot Water systems. The Borough President also rolled out his plan to create a Green Development Fund.
"In 2013, we will work with our partners at all levels of government to create a fund that will leverage our capital dollars with existing programs at the federal and state level so more residences can take part in what we are doing.   We have to be smarter with how we spend vital tax dollars so we can create more sustainable housing, so that everyone can recoup the remarkable savings that come over time," he said.
Borough President Diaz said that he will focus on greening the Bronx's mass transit system as well by continuing to work with the MTA in their effort to bring the long awaited Metro-North service to the east Bronx.
"Last year, I spoke about how transformative this project would be…how it would open our borough up to new development, employment and housing opportunities. That has not changed.  We need this," said Borough President Diaz. "This year, we will push for its full funding in the MTA's upcoming five-year capital plan. The dream of Metro-North service in the East Bronx must become a reality now."
On education, Borough President echoed President Obama's call for greater technology education opportunities. He said Bronx children must have access to schools, like P-Tech in Brooklyn which provides students with tools that lead to high-paying STEM careers.
The Borough President also mentioned his work towards making the specialized high school admissions process more equitable, which was outlined in a report released by his office in May focusing on Bronx students' severe underrepresentation in Specialized High Schools as a consequence of inadequate test preparation and other factors.
The Borough President closed his speech by thanking the Bronx for its efforts in helping its neighbors in the aftermath of Hurricane Sandy. He said that in his next term he will continue to offer a bold, progressive agenda for the future of the borough, and urged Bronxites to continue their hard work on the continuing development of the Bronx.
"Look around you today. Look at how that work has paid off. The seeds we planted so many decades ago are bearing fruit. And it doesn't stop there," said Borough President Diaz. "We have to keep going. We must persevere. We must push forward. During the next four years we will—together as 'One Bronx'—as a New Bronx, bring about meaningful change to our borough."
A copy of the 2012 Bronx Annual Development Report Summary can be found here: http://on.nyc.gov/UA7TM2.