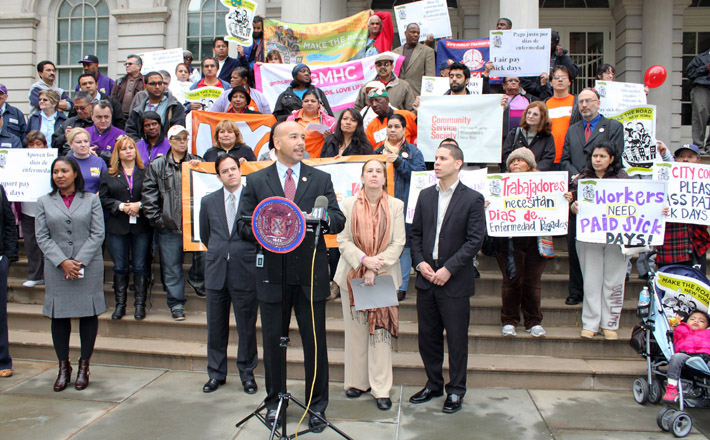 Today, Bronx Borough President Ruben Diaz Jr. joined Council Members Gale Brewer and Daniel Garodnick, as well as representatives of the Working Families Party, NYC Paid Sick Days Campaign, 32BJ, New York Communities for Change, Community Service Society, Make the Road New York, Central Labor Council and the TWU to announce his support for the "Paid Sick Leave" legislation before the City Council and called for a vote on the legislation.
"We have serious health issues in our borough, and in this City, that must be addressed. Yet far too many workers, particularly low-wage workers in our communities have to sacrifice their paycheck or sacrifice their health, a choice no one should be forced to make.  It is a basic right of the people of the Bronx and this City to be able to take a sick day when they need to. This is simply a matter of fairness. It is time for Intro 97 to become law, and I look forward to assisting my colleagues in the City Council in their efforts on behalf of this 'Paid Sick Leave' legislation," said Bronx Borough President Ruben Diaz Jr.
Following various conversations with business leaders across the City, Council Member Daniel Garodnick put forward a number of potential compromises to Intro 97, also known as the "Paid Sick Leave" legislation, which was originally introduced by Council Member Gale Brewer.
"Making sure that people can afford to stay home when they or a loved one are sick is critical to keeping our city healthy," said Council Member Gale A. Brewer, sponsor of the Paid Sick Time Act. "The health of all New Yorkers is at risk when workers with contagious illnesses ride the subway, prepare and serve food, and take care of children and seniors. Lack of paid sick time can also contribute to the worsening of chronic diseases like asthma and diabetes – which have reached epidemic levels in some of our neighborhoods – as New Yorkers without time off may be unable to seek early intervention for themselves and their children when complications arise."
"No New Yorker should have to choose between their job and caring for a sick child," said Council Member Dan Garodnick. "We need to work toward policies that protect workers, and take small business concerns into consideration."
The changes would require businesses with five or more employees offer five paid sick days or flexible vacation days. The bill would exclude seasonal workers, and allow employees, especially at restaurants and other service industries, the option to swap shifts rather than take a paid sick day, if they chose.
Under this compromise employees would not have to lose a paid shift when sick, while employers would not have to pay an employee for a shift they do not work.
"We commend Bronx Borough President Ruben Diaz Jr. for joining with other concerned elected officials, community groups, business leaders and others to support this important piece of legislation, which has the potential to improve the lives of over a million hard-working New Yorkers. People shouldn't have to choose between a job and their health, or the health of a family member, and we hope this bill comes up for a vote soon," said NYC Central Labor Council President Vincent Alvarez.
"My sister works as a caregiver for autistic children, and she doesn't get paid sick days. No one would want her coming to work sick and bringing her germs around to the kids, but when she misses work, she loses the pay she needs to make ends meet. It breaks my heart," said Chanelle Mickell, an organizer with Working Families.
"As a Latina and a small business owner in an immigrant neighborhood, I see every day the need for paid sick days. Business owners, workers, and council members agree. We need paid sick days now," said Amalia Cisneros, co-owner of Centro Naturista Amalias; member of Make the Road New York and Small Business United.
"This bill will ensure that working people in our city do not have to go to work sick out of fear of losing pay or even their jobs," said Héctor Figueroa, President of 32BJ. "It will also safeguard public health by reducing the spread of illness. Now is the time for the City Council to vote on this important legislation," said Héctor Figueroa, President of 32BJ.
"When my husband had emergency surgery this year, thank God I was able to take a paid sick day to be with him. But many of my friends and other people in the city don't have paid sick days. They have to worry about losing their jobs when they or their children get sick," said Angela Espinal, an apartment building cleaner and a 32BJ member.