The 18th Annual Tour de Bronx Cycling Event to Take Place in October!
The 18th Annual Tour de Bronx Cycling Event to Take Place in October!
Borough President Diaz Once Again Hosts New York State's Largest Free Cycling Event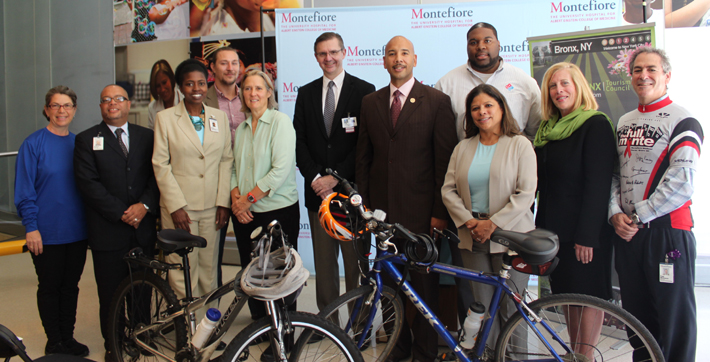 Today, Bronx Borough President Ruben Diaz Jr. teamed up with Transportation Alternatives, Montefiore Medical Center, St. Barnabas Hospital and the Bronx Lebanon Medical Center to announce that the 18th annual "Tour De Bronx," New York State's largest free bicycling event, will take place on Sunday, October 14th. This special biking event attracts thousands of cyclists from throughout the tri-state area and beyond, who tour the borough's beautiful neighborhoods and scenic attractions.
"I am excited the Tour de Bronx is here again. It is a wonderful event, where I get to join my fellow Bronxites and thousands of out-of-town visitors for a bike ride to tour our wonderful borough. Riding a bike around the Bronx is the healthiest way to rediscover our beautiful borough and all it has to offer in a new way. I invite everyone to join me again this year to see the best of the Bronx," said Bronx Borough President Ruben Diaz Jr.
Heart transplant recipient Roxanne Watson will be riding in the Tour de Bronx for the first time. "As someone who grew up in the Bronx and who's experienced a near-fatal health crisis, I'm gratified to see that Borough President Diaz and hospitals like Montefiore are promoting a healthy lifestyle, to help overcome problems like heart disease," she remarked.
At the news conference, Peter Selwyn, MD, Chairman of Family and Social Medicine at Montefiore, said that Montefiore takes its commitment to prevent disease by promoting a healthy lifestyle very seriously. Since cycling is one of the best ways to keep fit, it's appropriate that we partner with the Borough President on this great event."
"The Tour de Bronx is a perfect way to promote health and wellness and to discover all that the Bronx has to offer," said Steven M. Safyer, MD, President and CEO of Montefiore Medical Center. "This annual event demonstrates Montefiore's commitment to partner with other organizations in the Bronx to strengthen our communities and enhance well-being."
"The Tour de Bronx shows that bicycling is truly a five-borough phenomenon," said Paul Steely White, Executive Director of Transportation Alternatives. "This family-friendly event will showcase the recreational side of an increasingly common transportation choice for New Yorkers and offer an unparalleled experience of the diverse and historic neighborhoods of the Bronx."
"People come from all over to participate in this amazing event," said Olga Luz Tirado, Executive Director of the Bronx Tourism Council, the organization which produces Tour de Bronx for Borough President Diaz. "What better way to experience all the great Bronx people and Bronx places than by bike?"
Metro North Railroad will waive their bicycle permit requirements and quantity limits for the day, allowing for groups of riders to participate. Coca Cola will distribute Dasani water, Powerade sports drinks and Fuze. Pizza will be provided after the ride courtesy of Domino's.
The event offers both a 25- and 40-mile course, each of which winds through dozens of beautiful Bronx neighborhoods, historic districts, parks, waterfront, Greenway paths and more. The event is presented by Transportation Alternatives, the Bronx Overall Economic Development Corporation, the Bronx Tourism Council, Montefiore Medical Center, St. Barnabas Hospital, Bronx Lebanon Medical Center, Coca Cola and Domino's.
Participants can register at tourdebronx.org.

851 Grand Concourse Ste. 301
Bronx, New York 10451
(718) 590-3500
Email Borough President Diaz var gaJsHost = (("https:" == document.location.protocol) ? "https://ssl." : "http://www.");document.write(unescape("%3Cscript src='" + gaJsHost + "google-analytics.com/ga.js' type='text/javascript'%3E%3C/script%3E"));try {var pageTracker = _gat._getTracker("UA-3288993-1");pageTracker._trackPageview();} catch(err) {}