Borough President Diaz Hosts Special Lunch for Bronx Olympic Gymnast John Orozco
Borough President Diaz Hosts Special Lunch for Bronx Olympic Gymnast John Orozco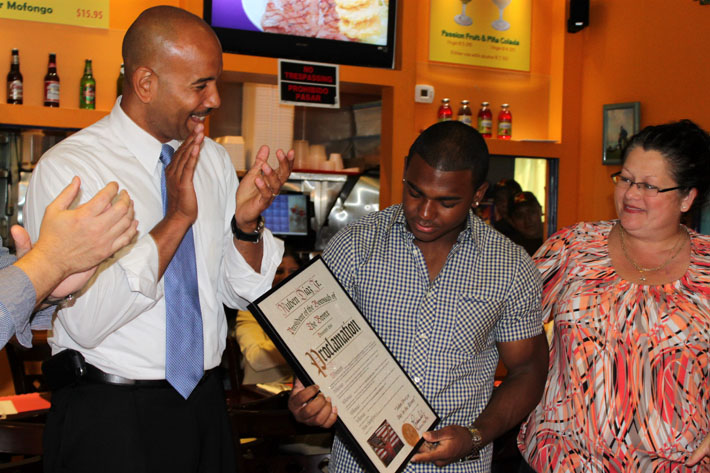 On Thursday, August 23, Bronx Borough President Ruben Diaz Jr., together with friends and family of gymnast John Orozco, hosted a welcome home lunch for the Bronx Olympian.
The special lunch honored the 19-year-old for being a true inspiration for countless Bronxites, representing the Bronx and the U.S. at the London Summer Olympic games.
In honor of the Harding Park native, Borough President Diaz proclaimed the day as, "John Orozco Day" in the Bronx. The event also feature a special cake sponsored by Zaro's New York Bakery.

851 Grand Concourse Ste. 301
Bronx, New York 10451
(718) 590-3500
Email Borough President Diaz var gaJsHost = (("https:" == document.location.protocol) ? "https://ssl." : "http://www.");document.write(unescape("%3Cscript src='" + gaJsHost + "google-analytics.com/ga.js' type='text/javascript'%3E%3C/script%3E"));try {var pageTracker = _gat._getTracker("UA-3288993-1");pageTracker._trackPageview();} catch(err) {}