Borough Presdient Diaz Testifies at Hearing on Future of Muller Army Reserve Center
Borough Presdient Diaz Testifies at Hearing on Future of
Muller Army Reserve Center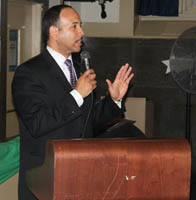 Bronx Borough President Ruben Diaz Jr. held a hearing to solicit community input on the future of the Sgt. Joseph E. Muller Army Reserve Center (MARC), which is located at 555 East 238th Street in Wakefieldm, and testified at the hearing.
Click here to download Borough President Diaz's testimony.
Click here to watch Borough President Diaz testify at the hearing.

851 Grand Concourse Ste. 301
Bronx, New York 10451
(718) 590-3500
Email Borough President Diaz var gaJsHost = (("https:" == document.location.protocol) ? "https://ssl." : "http://www.");document.write(unescape("%3Cscript src='" + gaJsHost + "google-analytics.com/ga.js' type='text/javascript'%3E%3C/script%3E"));try {var pageTracker = _gat._getTracker("UA-3288993-1");pageTracker._trackPageview();} catch(err) {}