Borough President Diaz Celebrates Success of Green Program
Borough President Diaz Celebrates Success of Green Program
Discovery High School was recognized for its efforts in creating a healthy environment through its vertical farms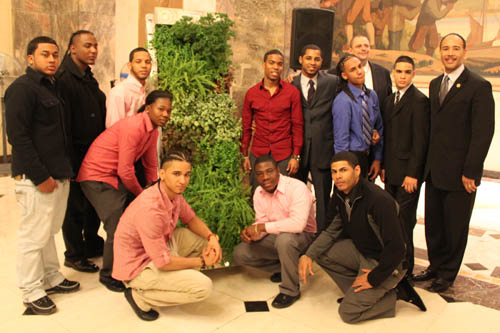 On Tuesday, April 12, Bronx Borough President Ruben Diaz Jr. hosted an event to recognize Discovery High School and celebrate the success of its vertical farm program, a green initiative that promotes healthier lifestyles and improves academic achievement.
Discovery High School has been called "the greenest school in all of New York City," in large part due to its edible food walls. With them, the school feeds 450 students healthy meals and remains the preeminent "School Garden to School Café" site in all of New York City with a profitable, student run, community-based farmer's market. During the event Discovery High School received the Excellence in School Wellness Award "The Greenest Classroom in NYC," an honor given by the New York City Strategic Alliance for Health (SAfH).
"We are creating a new learning model right here in The Bronx. With programs like this vertical farm we are becoming pioneers in green technology and preparing our youth to be the leaders of this new economy. I am very proud because our own Discovery High School is leading an important movement in not only New York City, but across the nation," said Bronx Borough President Ruben Diaz Jr.
Representatives of NBC Universal, the New York Road Runners and Trinity Wall Street Organization announced the sponsorship of four local Bronx sites and four city schools, respectively, that will replicate the green program developed by Discovery High School. The Bronx sites that will implement the vertical farm program are: Dr. Richard Izquierdo Health & Science Charter School, Mothers on the Move, Graham Windham Foster Care Agency, and Cloud Institute for Sustainability Education. 

851 Grand Concourse Ste. 301
Bronx, New York 10451
(718) 590-3500
Email Borough President Diaz var gaJsHost = (("https:" == document.location.protocol) ? "https://ssl." : "http://www.");document.write(unescape("%3Cscript src='" + gaJsHost + "google-analytics.com/ga.js' type='text/javascript'%3E%3C/script%3E"));try {var pageTracker = _gat._getTracker("UA-3288993-1");pageTracker._trackPageview();} catch(err) {}