SCORE Comes to the Bronx
SCORE Comes to the Bronx
Mentoring Program for Small Businesses finds a new home in the Borough thanks to the Advocacy of Borough President Diaz & BOEDC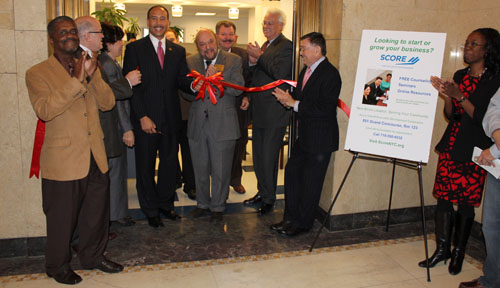 Today, Bronx Borough President Ruben Diaz Jr. and Marlene Cintron, president of the Bronx Overall Economic Development Corporation, held a ribbon cutting at BOEDC's offices to celebrate the launch in The Bronx of SCORE, a resource partner of the U.S. Small Business Administration.
"For the first time, Bronx businesses will be able to take direct advantage of the critical resources provided by SCORE, which offers free counseling, mentoring and advice for entrepreneurs, start-ups, small businesses and those looking to expand. Our Bronx businesses need and deserve every resource they can get, and I am thrilled that SCORE has made a decision to provide direct access to its services to Bronx businesses," said Bronx Borough President Ruben Diaz Jr.
SCORE services will be available every Thursday at the offices of the BOEDC between 10 a.m. and 4 p.m. Appointments can be made by calling (718) 590-6252.
"BOEDC is delighted to partner with an exceptional service provider such as SCORE.  Their presence here at BOEDC will give our Bronx businesses the advice and mentorship needed to expand and grow.  We invite those businesses that are looking to expand, to share their vision with SCORE representatives and receive valuable advice and resources.  We encourage all Bronx businesses to partner with SCORE at BOEDC," said Marlene Cintron, president of the BOEDC.
"We at SCORE are excited to partner with BOEDC in servicing small business clients to enable sustained entrepreneurial growth in the Bronx. Our New York City Chapter volunteers bring a wealth of broad experiences and expertise to meet the mentoring needs of this business community," said Jim Alles, SCORE counselor.
SCORE is the premier source for small business advice and mentoring in America. Established October 5, 1964, SCORE is a nonprofit association dedicated to entrepreneur education and the formation, growth and success of small business nationwide. More than 12,400 volunteers at 364 chapters provide individual mentoring—in person and online—and business workshops for aspiring entrepreneurs and small business owners.
SCORE has served more than nine million entrepreneurs since 1964. SCORE currently serves more than 350,000 entrepreneurs annually. Based on the findings of the Impact Study of SBA Entrepreneurial Development Resources, SCORE helped create more than 30,000 new jobs nationwide in 2009. One in seven clients created a job. SCORE also helped create 68,432 new small businesses in 2009 according to an SBA report sent to Congress.
For more information on SCORE and the services it offers, visit www.scorenyc.org.

851 Grand Concourse Ste. 301
Bronx, New York 10451
(718) 590-3500
Email Borough President Diaz var gaJsHost = (("https:" == document.location.protocol) ? "https://ssl." : "http://www.");document.write(unescape("%3Cscript src='" + gaJsHost + "google-analytics.com/ga.js' type='text/javascript'%3E%3C/script%3E"));try {var pageTracker = _gat._getTracker("UA-3288993-1");pageTracker._trackPageview();} catch(err) {}