Borough President Diaz and the BOEDC Bring the First "All-Electric" Delivery Truck to NYC
"Bronx Business Goes Green"
Borough President Diaz and the BOEDC Bring the First "All-Electric" Delivery Truck to NYC
Bronx Borough President Ruben Diaz Jr. and the Bronx Overall Economic Development Corporation (BOEDC) announced today the purchase of the first all-electric delivery truck in New York City for Down East Seafood, Inc., a seafood wholesaler/retailer located in Hunts Point.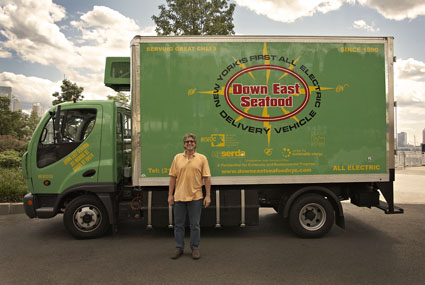 With the financial assistance of the BOEDC, Down East Seafood has purchased an all-electric, fully-refrigerated delivery truck—the only such truck on the road today in New York City. Manufactured by Smith Electric, this fully electric delivery truck produces zero emissions in an area plagued with asthma rates that are seven times the national average. With the purchase of the all electric truck, Down East Seafood will also enjoy direct savings on fuel. The truck can travel 150 miles before being recharged, which more than meets the needs of this business.
"The biggest reason for wanting to buy an all-electric truck is oil—the asthma rate is so high in the Bronx, and diesel trucks go right through the residential areas," said Ed Taylor, owner of Down East Seafood. "We see what's happening in the Gulf right now—it's very bad for the environment. Anything that can get us away from fossil fuels of that type is a good thing." He continued, "I wouldn't have been able to do it without the BOEDC. The BOEDC gave us loans at low interest to purchase the truck. The BOEDC helped us move into our building through an SBA 504 loan, and because we moved to Bronx, we almost doubled the number of employees we have. It's been a win-win situation."
Bronx Borough President Ruben Diaz has made it a priority to have Bronx businesses be responsive to the environmental needs of the borough. He has asked the Bronx Overall Economic Development Corporation to provide grants and low interest loans to the businesses to help them convert to solar and electric power.
"The purchase of an all-electric truck by Down East Seafood is another big step towards becoming the greenest borough in New York City, which is one of my top priorities as borough president. This truck will not only mean lower emissions, but it also sets an example for other Bronx businesses on how they too can 'go green.' I encourage all businesses in the Bronx to contact the BOEDC, look into their services and see how they can help your business become environmentally friendly," said Bronx Borough President Ruben Diaz Jr.
"We are pleased that BOEDC is able to provide low cost financing for a business such as Down East Seafood that is willing to invest in a new exciting technology that is good for business and good for the community in which it is located," stated Marlene Cintron, President of BOEDC. "This all-electric truck is not only helping the environment of the Hunts Point peninsula, but this and other projects like it will mean more jobs for Bronxites."

851 Grand Concourse Ste. 301
Bronx, New York 10451
(718) 590-3500
Email Borough President Diaz var gaJsHost = (("https:" == document.location.protocol) ? "https://ssl." : "http://www.");document.write(unescape("%3Cscript src='" + gaJsHost + "google-analytics.com/ga.js' type='text/javascript'%3E%3C/script%3E"));try {var pageTracker = _gat._getTracker("UA-3288993-1");pageTracker._trackPageview();} catch(err) {}