Borough President Diaz Launches Fight for Living Wages
Borough President Diaz Launches Fight for Living Wages
Announces the introduction of the "Fair Wages for New Yorkers" Act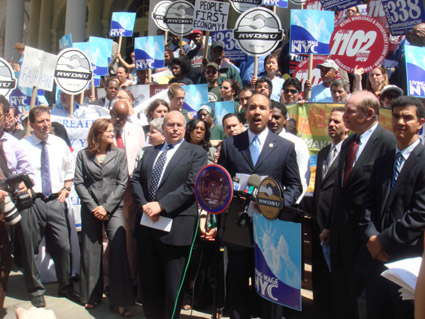 Today, Bronx Borough President Ruben Diaz Jr. joined elected officials, labor leaders and community groups from across the five boroughs on the steps of City Hall to announce the introduction of the "Fair Wages for New Yorkers Act" and launch the "Living Wage NYC" campaign.
Introduced by City Council Members Annabel Palma and G. Oliver Koppell at the behest of Borough President Diaz, the "Fair Wages for New Yorkers Act" will mandate that the jobs created at projects that receive significant taxpayer subsidies must offer employees a "living wage," currently defined as $10 with benefits, or $11.50 per hour without benefits.
"In my 'State of the Borough' address, I made it clear that the passage of a living wage law for New York City would be a top priority of my administration. Today, we begin the process of making this law a reality. When developers rely on the taxpayers' wallets to make their projects work, they must guarantee that the jobs created at that project will offer its employees more than just a part-time, minimum wage job with no benefits. The 'Fair Wages for New Yorkers Act' will ensure that heavily-subsidized developments create meaningful jobs for their future employees, and I am confident that our legislation will continue to pick up support from every corner of the City," said Bronx Borough President Ruben Diaz Jr.
The "Fair Wages for New Yorkers Act" will guarantee that when the city gives businesses public subsidies, the jobs they create will pay at least a living wage. All workers employed at subsidized developments will be covered, such as employees at retail stores located in subsidized shopping centers, concession workers at subsidized sports stadiums and cafeteria workers in subsidized office buildings. Both the living wage and the health benefits supplement will be adjusted each year to keep pace with the rising cost of living.
Borough President Diaz added, "If you want charity, you must be charitable. If you want a public benefit for your project, your project must benefit the public."
"The Kingsbridge Armory experience taught us that we need a citywide policy to guarantee fair wages on subsidized development projects," said City Council Member Annabel Palma. "The Fair Wages for New Yorkers Act will lay out clear expectations for developers and help speed economic growth that will benefit all New Yorkers."
"I am sponsoring this legislation because I believe that when public subsidies are involved, the people that receive those subsidies should not be paying poverty-level wages. They should be required to pay a living wage," said City Council Member G. Oliver Koppell.
"It is time for New York City to join the growing list of communities that promote quality development through living wages. Development that merely results in permanent poverty wage jobs accomplishes nothing. I am confident that the city council will put the interests of the people of this city above those of private developers," said RWDSU President Stuart Appelbaum.
The "Fair Wages for New Yorkers Act" has already picked up support from a number of City elected officials, including Manhattan City Council Members Melissa Mark-Viverito, Rosie Mendez, Margaret Chin and Gale Brewer; Brooklyn City Council Members Brad Lander, Letitia James, Sara Gonzalez and Jumaane Williams; Queens City Council Members Daniel Dromm, James Sanders, Julissa Ferreras and Elizabeth Crowley; and Bronx City Council Members Fernando Cabrera, Maria del Carmen Arroyo, Helen Diane Foster, Larry Seabrook and Joel Rivera.For more information about the legislation, visit livingwagenyc.org.

851 Grand Concourse Ste. 301
Bronx, New York 10451
(718) 590-3500
Email Borough President Diaz var gaJsHost = (("https:" == document.location.protocol) ? "https://ssl." : "http://www.");document.write(unescape("%3Cscript src='" + gaJsHost + "google-analytics.com/ga.js' type='text/javascript'%3E%3C/script%3E"));try {var pageTracker = _gat._getTracker("UA-3288993-1");pageTracker._trackPageview();} catch(err) {}