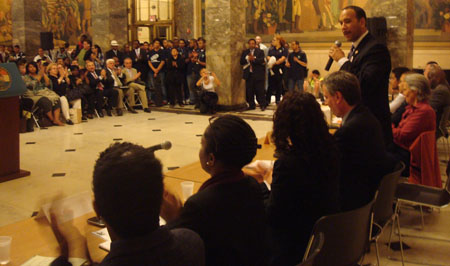 On Thursday, April 22, Bronx Borough President Ruben Diaz Jr. and Public Advocate Bill de Blasio, joined by dozens of young residents and a large group of elected officials and community organizations, hosted "Walking the Walk: A Town Hall on the State of our Bronx Youth."
More than 300 hundred students, parents, educators and community organizers discussed for more than three hours many issues affecting the Bronx's youth, such as cuts to student Metrocards, the need for summer youth employment programs, school safety, youth violence, and youth involvement in policy making decisions and community issues, among others.
"This town hall meeting was a great opportunity to prove that our young residents want and are ready to be part of the discussion about the problems they have to face in our borough and our city. It makes me feel proud and optimistic to see that hundreds of young kids came to give their opinions, to listen and to propose solutions to create a better future," said Bronx Borough President Ruben Diaz Jr.
"The meeting offered me and my colleagues a wide window into the concerns and expectations of a generation that wants to be heard. I'm looking forward to working with more young adults and youth advocates to find solutions to problems affecting them," said Public Advocate Bill de Blasio.