In recognition of National Disability Employment Awareness Month
On Wednesday, October 7, Bronx Borough President Ruben Diaz Jr., joined by the Commissioner of the Mayor's Office for People with Disabilities, Matthew Sapolin, and the Executive Director of Bronx Independent Living Services, Brett Eisenberg, announced the creation of the Bronx Borough President's Disability Advisory Council (BxBPDAC), in recognition of National Disability Employment Awareness Month.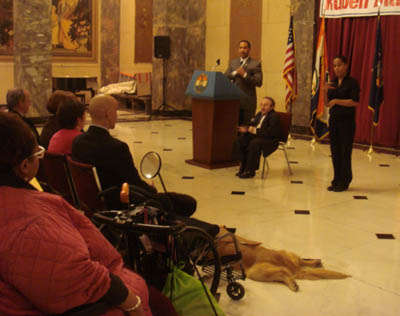 Borough President Diaz also announced the participation of his office in the National Disability Mentoring Day, to be celebrated on October 21st, which is a large-scale national effort to promote career development for students and job seekers with disabilities through hands-on career exploration, on-site job shadowing, and ongoing mentoring leading to internship and employment opportunities. A small group of mentees will be assigned to work in various departments of the Borough President's Office, where they will be matched with workplace mentors according to their expressed career interests.
Other borough institutions such as Lehman College, Hostos Community College, Bronx Parent Housing Network, Bronx Independent Living Services and North Central Bronx Community Hospital, will be taking part in this national effort.
"As one of the first initiatives of the Disability Advisory Council, The Bronx will institute a Quarterly Disability Mentoring Day. Statistics show that there is a significant disparity between the job attainment and earnings of the disabled population versus that of the non-disabled labor force population. Therefore, it is my hope that the QMD will help disabled Bronxites in their job search," said Borough President Diaz adding that the next Disability Mentoring Day will be scheduled in February 2010 in partnership with Lehman College.