On Saturday, September 26, Bronx Borough President Ruben Diaz Jr. joined dozens of members of New York Latinas Against Domestic Violence for the 9th Annual Gladys Ricart and Victims of Domestic Violence Memorial Walk.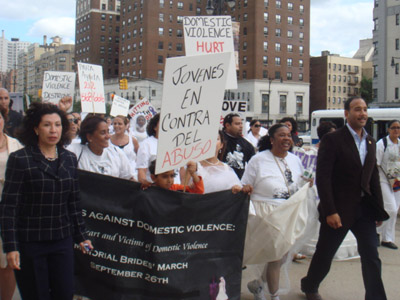 Organized by New York Latinas Against Domestic Violence, and also known as the Brides' March, this annual event is held every September 26 to remember Gladys Ricart, the Dominican woman from Washington Heights who was murdered on September 26, 1999, by a former abusive boyfriend on the day she was to wed someone else. The mission of the March is to raise awareness of the brutal consequences and horrors of domestic violence.
"There is not a valid excuse or reason for domestic violence. It is not a cultural matter, it is a crime and as a crime we have to reject it and to punish it. But unfortunately we still have too many cases of domestic violence in The Bronx. According to the statistics, 20% of the women abused in all the city of New York live in our borough," said Diaz Jr. "We want to tell all those victims that they don't need to be afraid, that they are not alone, that there are many programs designed by the City to help them fight the abuse."
The 2009 Brides' March began at the Fort Washington Heights Presbyterian Church located at 21 Wadsworth Ave at the corner of West 174 Street in Washington Heights. The marchers walked through Washington Heights into The Bronx and made a stop at the Bronx County Building where Borough President Diaz, joined by the Commissioner of the Mayor's Office to Combat Domestic Violence Yolanda Jimenez, welcomed them.
During the event, Borough President Diaz announced the continuation of the DiVA (Domestic Violence Awareness) campaign, whose mission is to raise awareness on domestic violence in all its forms, and on resources available to victims in NYC. This year DiVA is promoting an interactive play on teen dating violence called Texting 4 Life, created and directed by Pregones Theater in partnership with Start Strong Bronx, that will be held on Tuesday Oct 6th at Pregones Theater. Diaz Jr. also announced that in honor of the state-wide "Shine the Light on Domestic Violence" the side of the County Building located at the Grand Concourse Avenue and 161st street will be illuminated with purple lights during the whole month of October.