Yesterday, Bronx Borough President Ruben Diaz Jr. made his first official visit to the Capitol to discuss policy with federal leaders, both of New York's senators, and members of the State's congressional delegation.
During his one-day trip to Washington, D.C., Borough President Diaz met with Senators Charles Schumer and Kirsten Gillibrand, former Bronx Borough President and current director of the White House Office of Urban Affairs Adolfo Carrion Jr., and all three members of the Bronx Congressional delegation, Reps. Jose Serrano, Joseph Crowley and Eliot Engel.
Borough President Diaz discussed a number of issues with these legislators, such as how to bring more stimulus funds to The Bronx, green development in the borough, national healthcare reform, the potential expansion of the empowerment zone to cover more of The Bronx and identifying intermodal funding for borough transportation projects.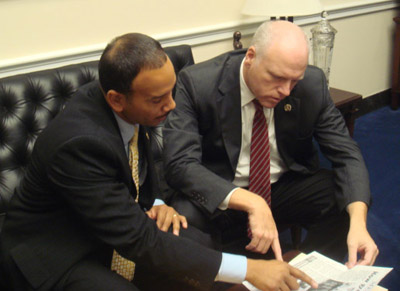 Borough President Diaz also met with Rep. Steve Israel of Long Island, and the two discussed their partnership in the recently launched New York State Intergovernmental Energy Partnership, a new group of elected officials committed to green energy innovation and helping New York become the new green energy leader in the United States, of which both Borough President Diaz and Rep. Israel will serve as founding chairmen.
"There are a number of areas where federal funding can help our borough, from job creation to green development to modernizing our transportation hubs. These meetings represent the beginning of my administration's efforts to bring more federal dollars to our borough, and I look forward to working with the White House and our leaders in Washington to bring that funding to The Bronx," said Borough President Diaz.