On Saturday, June 20, Bronx Borough President Rubén Diaz, Jr honored a new group of Bronx sons and daughters during their induction into the Bronx Walk of Fame 2009. This year's honorees were: Composer Charlie Fox; Actress Judy Reyes; Grammy winning artist Melissa Manchester; Hip Hop Pioneer GrandWizzard Theodore; and Legendary Singer Tony Orlando, once a resident of Featherbed Lane and this year's Honorary Bronxite.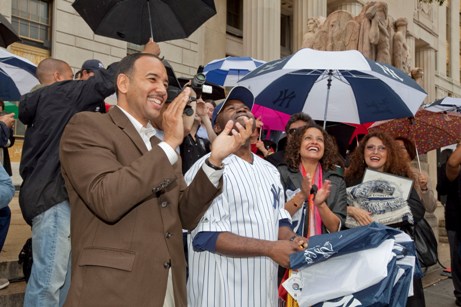 The inductees were present to unveil permanent plaques carrying their names along the Grand Concourse. The event was a highlight of Bronx Day, the final day of Bronx Week, the annual tradition celebrating the best of The Bronx.
"The Bronx has always been the borough of great people – and each one of these inductees represents some of the best talent and potential The Bronx and the city of New York has to offer," said Bronx Borough President Ruben Diaz, Jr.On Grand Concourse south of East 161st, the Bronx Walk of Fame honors the success and contributions made by celebrated Bronxites. Past inductees include U.S. Secretary of State Colin Powell, Television Host Regis Philbin, Entertainer Dolores Hope, Author E.L. Doctorow, Actresses and Entertainers Diahann Carroll, Rita Moreno and Renee Taylor, Broadcast Journalist Gabe Pressman, Daniel Libeskind, music superstar Valerie Simpson, actor Danny Aiello, and filmmaker Stanley Kubrick.
Other highlights of the Grand Finale of The Bronx Week 2009 included: the traditional Bronx Day Parade, bands, floats and thousands of marchers made their way up Mosholu Parkway celebrating their Bronx pride; the Food & Art Festival, featuring tasty dishes from the borough's most popular restaurants, arts and crafts by regional artists and a wide variety of vendors add up to one of the borough's most popular annual street festivals; the 26th Annual "Bronxboro" Golden Arm Wrestling Championships, with categories for amateurs and pros; and the annual Bronx Week Concert, featuring Afro-Cuban Jazz by the famous Machito Orchestra, singer Donnie Klang of MTV's hit reality show "Making the Band" and R&B singing sensations The Manhattans.