This afternoon, Bronx Borough President, Ruben Diaz, Jr., NYC Bridge Centennial Commission Co-founder Barry Schneider, representatives of the Department of Parks and Recreation and the Department of Transportation, and other elected officials led a procession with marching band, a Clydesdale horse and a horse drawn carriage over the Pelham Bay Bridge to celebrate its 100th anniversary.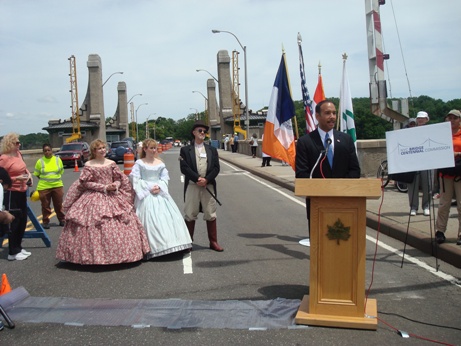 "Bridges are important links between communities and the Pelham Bay Bridge is a vital connection between the amenities in the northern part of Pelham Bay Park and the nautical community of City Island," said Borough President Diaz. "This bridge is a piece of our borough's history and recently was used by the residents of City Island during the fight to avoid the closing of Ladder 53".
The NYC Bridge Centennial Commission identified six bridges that were to celebrate their 100th Birthday in the next two years, with Pelham Bay Bridge as the 2nd of three bridges to be celebrated in The Bronx. The first one was University Heights Bridge and the last one to be honored will be the Madison Avenue Bridge.
The Pelham Bay Bridge is a four-lane bascule bridge that carries vehicular and pedestrian traffic over where the Hutchinson River and Eastchester Bay meet. It connects one part of Pelham Bay Park with another and further provides one of the means by which residents of, and visitors to, City Island can get to the Pelham Bay neighborhood and vice versa.
The Pelham Bay Bridge replaced an older bridge that had been erected near the site. The old bridge remained open to traffic while construction on the new one proceeded. Construction of the Pelham Bay Bridge began on August 9, 1906 and was opened to traffic on October 15, 2008.