Free manicures, facials, massages and more were available along with information on domestic violence
Bronx Borough President Ruben Diaz, Jr. celebrates Bronx Week 2009 by transforming the Veterans' Memorial Hall of the Bronx County Supreme Courthouse into a fully operational salon offering free manicures, facials, makeovers and massages to all New Yorkers, an event that serves as a platform to distribute information regarding domestic violence awareness, prevention and services available in The Bronx.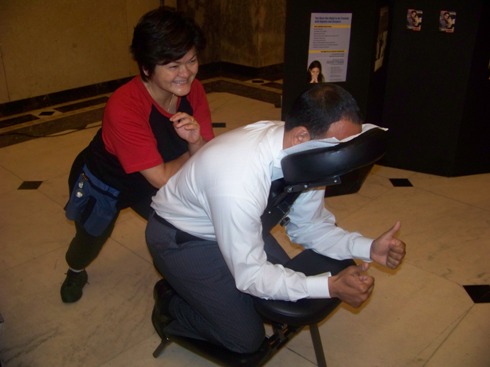 "This is a day of celebration and service to all the attendees of the 7th Annual DiVA Spa, where a festive environment becomes the venue to educate and empower our community and work on eradicating the epidemic of domestic violence," said Borough President Diaz. "It is our hope that the information we share today can save the life of even one victim of domestic violence. If we can accomplish that, we have done our job."
The Borough President, joined by Bronx District Attorney Robert T. Johnson and the Bronx Domestic Violence Advisory Council, will highlight the theme of Economic Empowerment. He will also be joined by Laurel Eisner, Executive Director of Sanctuary for Families, a city-wide domestic violence organization that currently manages My Door, a partnership with the United Way of New York City and the Human Resources Administration (HRA), an innovative community-based program promoting economic self-sufficiency and housing permanence for domestic violence survivors leaving confidential shelter and settling in the Bronx.
Operating from Bronx Family Court, in space provided by the Bronx Borough President's Office, My Door offers survivors:
Economic stability, workforce development and financial planning/literacy services and resource linkages
Intensive case management
Clinical social work services
Housing support and advocacy
Families coming out of shelter have overcome the incredibly difficult hurdle of leaving an abusive situation, but barriers still exist
Many face continued threats of violence from their batterers, who may have visitation with children, or still be stalking them.
Most of them still struggle with the emotional and economic consequences of domestic violence that create barriers to independence, including the effects of severe trauma, damaged credit, limited work history and education.
All of them want a job, but face increased barriers brought about by the current economic crisis.
"Economic dependence keeps survivors in abusive relationships," said Laurel Eisner, Sanctuary for Families' Executive Director. "Economic independence allows them to escape. My Door helps them not just survive, but to move forward to real economic independence."
Verizon Communications and Verizon Wireless will be onsite providing financial literacy, resume building and interviewing skills to all the DiVA Spa attendees.
"Verizon Wireless' HopeLine® program has a long history of support for domestic violence survivors in the Bronx and throughout the New York Metro area," said Eileen Lambert, Verizon Wireless associate director of human resources. "Finding and keeping a job is the key to economic empowerment and we look forward to helping women polish their resumes and interviewing skills at today's event."