Standing on the green roof of the Bronx County Court House, the only municipal building in NYC with a green roof, Bronx Borough President Ruben Diaz, Jr, Deputy Borough President Aurelia Greene, Highbridge Residents and community asked for the Highbridge Middle School to be the first Green LEED Platinum School in New York State.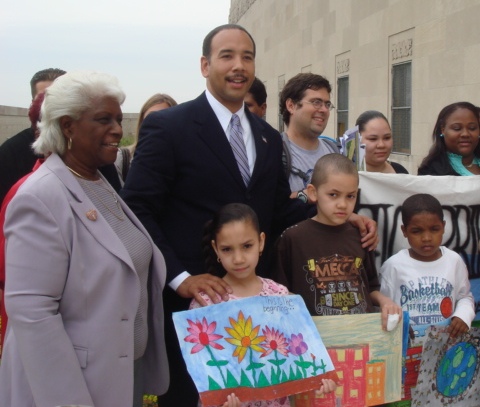 After over three years of constant struggle, Highbridge United won a middle school for the Highbridge Neighborhood of the Bronx and now parents and students want to make certain that the school is built as they have envisioned it: a green roof school with the highest level of environmental standards that will focus on Environmental Science and Sustainable Energy.
"By ensuring that the construction of a middle school in Highbridge will meet the highest possible green standards, we can show not only the City and the State, but the entire nation that the Department of Education, the School Construction Authority and the people of the Bronx are committed to the environment, and will do whatever it takes to have a "greener" future," said Borough President Diaz, Jr.
The neighborhood has desired a Middle School for nearly forty years, but every time an appeal was made to the city, it has always been denied. Finally, after three years of constant campaigning on the part of Highbridge United, the Department of Education, concluded "because of geographic constraints, the Highbridge area does not have appropriate access to middle school facilities" page 23 from Building on Success Proposed 2010-2014 Five Year Capital Plan.
Jose Gonzalez, Parent Association President from PS 73, states "as a community we were so happy to see a middle school for Highbridge included in the upcoming plan, and now it is time to make certain it is a GREEN SCHOOL!"
"A new middle school in Highbridge was a major priority of mine while I served in the New York State Assembly, and I am very pleased to see this longtime community dream finally becoming a reality," said Deputy Bronx Borough President Aurelia Greene. "Now that this school is on the way, we need to take the next step and ensure that it is constructed in the most environmentally-friendly way possible, and that the learning inside focuses on environmental issues. With a green building and a green curriculum Highbridge can become the standard bearer for environmental education, and I am proud to stand with the community in their efforts."

851 Grand Concourse Ste. 301
Bronx, New York 10451
(718) 590-3500
Email Borough President Diaz var gaJsHost = (("https:" == document.location.protocol) ? "https://ssl." : "http://www.");document.write(unescape("%3Cscript src='" + gaJsHost + "google-analytics.com/ga.js' type='text/javascript'%3E%3C/script%3E"));try {var pageTracker = _gat._getTracker("UA-3288993-1");pageTracker._trackPageview();} catch(err) {}