On Wednesday, May 20th, 2009, Bronx Borough President Ruben Diaz Jr. and Tiki Barber of Tiki Recreation announced the donation and permanent placement of a playground at Cedar Playground in The Bronx. The playground is a symbol of Bronx Borough President Diaz Jr. and Tiki's commitment to improving the health and well-being of local communities as well as encouraging children to achieve their dreams.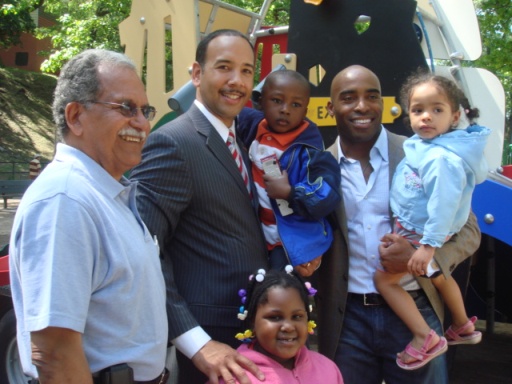 "We all know that outdoor activity is an important part of the lives of our children and this new playground will go a long way towards improving the physical well-being of many Bronx kids. In addition, the use of 100% recyclable materials sends a positive green message and makes this project healthy for our earth as well as our children," said Bronx Borough President Ruben Diaz Jr. "I would like to thank Tiki and Tiki Recreation for their work on rehabilitating the Cedar Playground and I look forward to collaborating with them on future projects throughout the borough."
"We are proud to welcome new environmentally-friendly play equipment to Cedar Playground" said Hector Aponte, Bronx Commissioner of New York City Department of Parks & Recreation. "We are happy to work with Tiki Recreation to enliven this neighborhood playground.
Tiki Recreation's Play Proud™ playgrounds are dynamically designed to create a play experience that is ever-changing, fun and healthy. Caloric burn studies have shown that children playing on Tiki Recreation equipment burn 30% more calories during the same time period on post and platform structures. Tiki Recreation seeks to accomplish more than just fun with its play grounds by providing inspirational messages that combat increasing obesity rates, sedentary lifestyles and a variety of electronic diversions.
"I am excited, both personally and professionally, to be working with Ruben Diaz Jr. to bring high quality Tiki Recreation playgrounds to the children of the Bronx. I share Ruben's vision of the future for this great borough and look forward to continuing to work with him to achieve that vision," said Tiki Barber.