Bronx Borough President Diaz Encourages Bronxites to Bike to Work
Bronx Borough President Diaz Encourages Bronxites to Bike to Work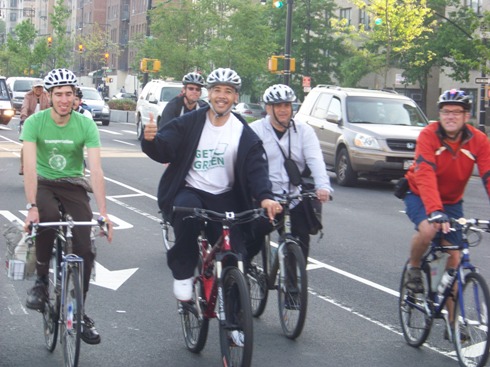 Bronx Borough President Ruben Diaz, Jr. rode his bicycle to join a group of residents during the celebration of Bike to Work in The Bronx, as part of New York City's annual Bike to Work Week celebration.
Transportation Alternatives, New York City Department of Transportation and Borough President Diaz promoted biking as a convenient, quiet, healthy and environmentally-friendly form of transportation. After the ride, Diaz hosted a complimentary breakfast at the new Lou Gehrig Plaza at 161st Street & the Grand Concourse.
The 2009 Bronx Bike to Work Day was part of the Grand Concourse Centennial celebration, one of many events taking place throughout the borough this year celebrating the 100th birthday of the Bronx's most famous boulevard.

851 Grand Concourse Ste. 301
Bronx, New York 10451
(718) 590-3500
Email Borough President Diaz var gaJsHost = (("https:" == document.location.protocol) ? "https://ssl." : "http://www.");document.write(unescape("%3Cscript src='" + gaJsHost + "google-analytics.com/ga.js' type='text/javascript'%3E%3C/script%3E"));try {var pageTracker = _gat._getTracker("UA-3288993-1");pageTracker._trackPageview();} catch(err) {}