Ruben Diaz Jr. was sworn in as the 13th Bronx Borough President in May 1 after been elected for the position during a Special Election on April 21st, 2009. Ruben Diaz Jr. previously served in the New York State Assembly since 1997, representing the 85th Assembly District.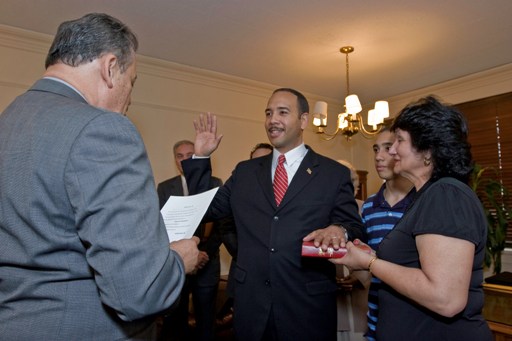 "This is the culmination of over two years of working with elected officials and community leaders. I hear Bronxites loud and clear and I'm ready to work for them", said Bronx Borough President Ruben Diaz Jr.
Throughout his seven terms in the State Legislature, Ruben Diaz Jr. was a champion for working families in the Bronx. He demonstrated passion for constituent service, social advocacy and community empowerment balanced with support for sensible, green economic development and job creation programs. He sponsored and secured passage of important and innovative laws to address the consequences of the intolerable levels of asthma in the South Bronx, healthcare insurance fraud, and quality of life concerns.
Borough President Diaz has proven himself to be a fearless and tireless advocate for justice and equality for all. A staunch defender of the environment, he is a leading voice against environmental racism and injustice and helped lead the fight to restore the Bronx River. Due to his tireless and relentless advocacy in the case of his constituent, Amadou Diallo – a law-abiding young African Bronx resident who was wrongly killed by four NYPD officers in a hail of 41 bullets – Ruben Diaz Jr. became known around the world for his advocacy for civil and human rights.
In the State Assembly, Ruben Diaz Jr. served as Chair of the Committee on Election Law and on the Assembly's Standing Committees on Education, Ways & Means, Children and Families, Environmental Conservation and Transportation. He is also a member of the Assembly's Puerto Rican and Hispanic Task Force and the Black/Puerto Rican and Asian Legislative Caucus.
A lifelong resident of the Bronx, Borough President Diaz lives in the Southeast Bronx with his wife Hilda Gerena Diaz and their two sons, Ruben Diaz III and Ryan Isaiah Diaz. He graduated from Lehman College, City University of New York, with a Bachelors degree in political theory.