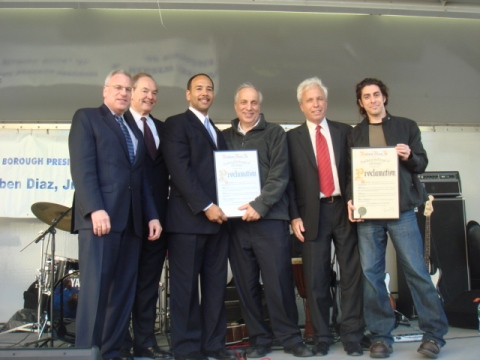 Bronx, NY – Bronx Borough President Ruben Diaz, Jr. and the Hebrew Institute of Riverdale hosted the Sixth Annual Bronx Israel Independence Day (Yom Ha-Atzmaut) Festival, which this year's theme was "Am Yisrael Chai."
This event continues a tradition of successful and memorable Bronx Independence Day Festivals that have brought fun and celebration to Jewish residents of the Bronx and families the visit from outer boroughs. Each year, dozens of Jewish families get together at the Independence Avenue to participate in many activities for children created to educate them on Israeli culture and traditions.
"The Bronx joins with communities across the world in commemorating the 61st anniversary of the State of Israel, a historic day that instills joy and pride in the Hebrew people", said Borough President Diaz.