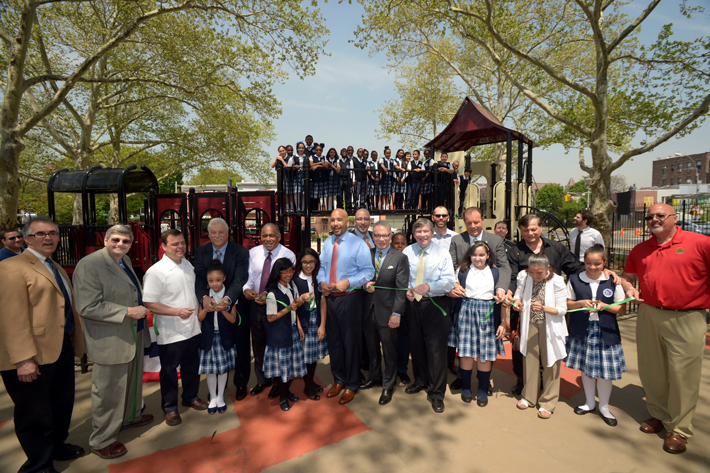 On Friday, May 8, NYC Parks Commissioner Mitchell J. Silver, FAICP joined Bronx Borough President Ruben Diaz Jr., Council Member James Vacca, NY State Senator Gustavo Rivera, Community Board 11 Chairman Tony Vitaliano, Van Nest Neighborhood Alliance Counsel Bob Nolan and the Bronx Charter School for Excellence to cut the ribbon on the renovated Van Nest Park.
"This beautifully redesigned park which honors this community's history will once again be a beloved public space for this neighborhood," said NYC Parks Commissioner Mitchell J. Silver, FAICP. "Thanks to our Bronx elected officials who have been dedicated to improving our green spaces throughout the borough, this park will be enjoyed for generations to come."
"The rehabilitation of Van Nest Playground has long been a priority for this community and I am proud to have provided $500,000 in capital funding towards this project," said Bronx Borough President Ruben Diaz Jr. "This renovated playground is here just in time for summer, so I hope the youngsters of Van Nest and Pelham parkway take full advantage of this tremendous new amenity in the coming months."
"It's a pleasure to finally celebrate the finished renovations at Van Nest Park," said Council Member James Vacca. "Since this has been in the works for quite some time, I'd like to extend gratitude to former Council Member Joel Rivera and to Bronx Borough President Diaz for their leadership and working with me to secure over $1.35 million for this project. I look forward to seeing families enjoy this park for years to come."
The renovation of Van Nest Park, which is in the theme of a 19th century railroad, includes new play equipment, a spray shower, swings, drinking fountain, benches, new painted game lines, and landscaping.
Funding for this $1.35 million project was generously allocated by Council Member Torres, Council Member Vacca, and Bronx Borough President Diaz Jr.
Van Nest Park takes its name from the Van Nest Railroad Station, which served the community in the late 19th century. The New York, New Haven, Hartford Railroad Company established the railroad station in the neighborhood even before there was a settlement. The station was named by Abraham Reynier Van Nest, the director of the New York, New Haven, Hartford Railroad, in honor of his father, Reynier Van Nest, a successful saddle maker. The Van Nest family traces its roots to Pieter Pietersen Van Nest, who came from the Netherlands in 1647 to settle in the young Dutch colony.