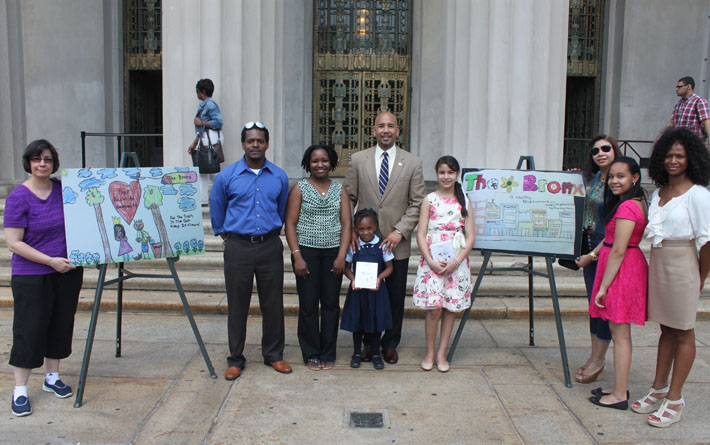 Contest Encouraged Bronx Students to Help Keep Their Neighborhoods Clean
Today, Bronx Borough President Ruben Diaz Jr. announced the winners of the "Respect Our Block" Poster Contest. The contest was open to students of all ages across the borough, and invited individual students or groups of students to create a poster urging their neighbors to "Respect Our Block."
Hundreds of students from all over The Bronx submitted posters for consideration, and two students were chosen as the winners. They were Aliya Victor, a kindergarten student at P.S. 121—The Throop School, near Allerton Avenue and Marielys Perez, a fifth grader at P.S. 100 in Soundview.
"We saw so many great posters as part of this contest, and I want to congratulate every student who participated. These two posters showcased the community spirit we want our students to embrace in The Bronx, and were worthy of extra recognition. I'd like to that Aliya and Marielys, as well as their teachers, principals and especially their families, for showing us just what it means to 'Respect our Block!'" said Bronx Borough President Ruben Diaz Jr.
Aliya's poster can be viewed here: https://flic.kr/p/o5kLFv. Marielys'poster can be viewed here: https://flic.kr/p/o53vaR.
Borough President Diaz hosted a press conference to announce the two winners. The day included a lunch with the borough president, and each student received a Barnes & Noble e-reader and a large blowup of their winning poster as their prizes.
The "Respect Our Block" contest, which is part of the borough's ongoing centennial celebrations, was launched in March in response to concerns and complaints raised by Bronxites to the Borough President's Office regarding litter, pet waste and other issues that can make a neighborhood look unappealing. Through this contest, Borough President Diaz's hopes to engage the children of The Bronx and use their energy to make our streets cleaner and increase pride in The Bronx.