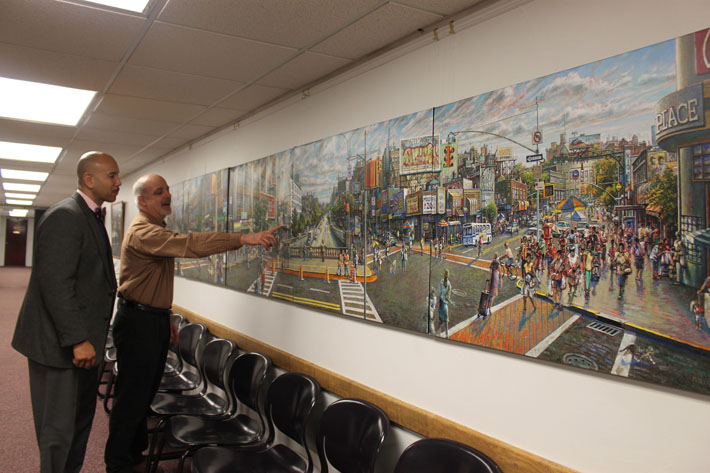 As one of the many events celebrating the centennial of Bronx County, Bronx Borough President Ruben Diaz Jr. has announced that his office will showcase the artwork of lifelong Bronx resident Daniel Hauben throughout 2014.
Daniel Hauben, a resident of Van Cortlandt Village who has been acclaimed as perhaps the Borough's most versatile and prolific painter, has been painting for the past 25 years.  Mr. Hauben, known for being a landscape painter, works with oil paint and chalk pastels to depict what it means to live in this world though his artwork.  As a painter he has traveled to numerous countries and parts of the United States to capture both the beauty and fragility in both a natural and urban environment.
Daniel Hauben will be showcasing his exhibit, titled 'Bronx Works,' at the executive office of the Bronx Borough President throughout 2014. The exhibit includes a full scale reproduction on canvas of his famous 17-foot homage to the Bronx entitled "Bronx Vortex." This enormous painting captures a panoramic view and the essence of the Bronx's Fordham Road and Grand Concourse.  At this exhibit you will also find other paintings by that artist that illustrates the Bronx in its everyday life.
"Daniel Hauben is a true artist. The Bronx is full of life and diversity and Daniel Hauben captures that spirit in his art," said Borough President Diaz. "One of my favorite paintings from his 'Bronx Works' exhibit is titled 'Bronx Vortex' which is a panoramic view of the well known Fordham Road and Grand Concourse intersection.  I invite everyone to stop by my office to view Mr. Hauben's extraordinary work."
"It is an honor to have my work displayed on the walls of The Bronx Borough President's office as part of the Bronx's year long centennial celebration," said Daniel Hauben. "The Bronx is such a beautiful, colorful place that it's easy to make come to life on my canvas."
To view Daniel Hauben's exhibit, "Bronx Works," please visit our office located at 851 Grand Concourse, Room 301, Bronx, NY 10451. More information about the artist can be found at his website, www.danielhauben.com.