Bronx Borough President Ruben Diaz Jr. today gave his official inaugural address, outlining his forward looking vision for the borough of The Bronx.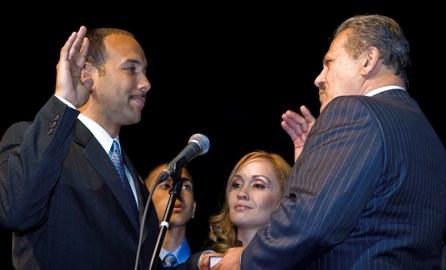 Borough President Diaz highlighted the concept of "One Bronx," an effort to bring all of the neighborhoods of the borough together to discuss their shared problems and develop joint solutions.
"One Bronx—this means coming together, regardless of our differences, to work for the common good and build a better, more beautiful borough," said Borough President Diaz. "One Bronx—this means we must all stand side-by-side to make our home the best place it can possibly be."
In addition to the announcement of a forthcoming business summit, to be spearheaded by the Bronx Overall Economic Development Corporation, Borough President Diaz Jr. also discussed major funding efforts his office has already put forward in just a few short weeks, providing crucial funding for schools, parks and cultural institutions.
Diaz Jr. also challenged the Bloomberg administration to reverse its plans to shut down Ladder 53, the only fire station on City Island.
"As anyone who ever tried to go to dinner on the weekend can attest, the traffic there can be, to put it nicely, unbearable. Despite the congestion and remoteness of the Island, the City is ignoring the pleas of the community and moving ahead with its plans. This move will expose the City Island community to unnecessary danger, and could mean the tragic loss of life," Diaz said.
Borough President Diaz closed his speech with a call to arms to all Bronxites, urging them to join with him to focus on the positive and be optimistic about The Bronx, especially in the face of a poor economy and the challenges it brings.
"We will be positive in our mindset, and we will put forward solutions to our shared problems, rather than simply harp on the negative. Together, we will move forward to build a greater Bronx, a greater City, and a greater nation. This is our mission, and I would be honored if you would join me", Diaz said.